Brisbane Festival and The Princess Theatre present
Enemies of Grooviness Eat Sh!t
15 - 17 Sept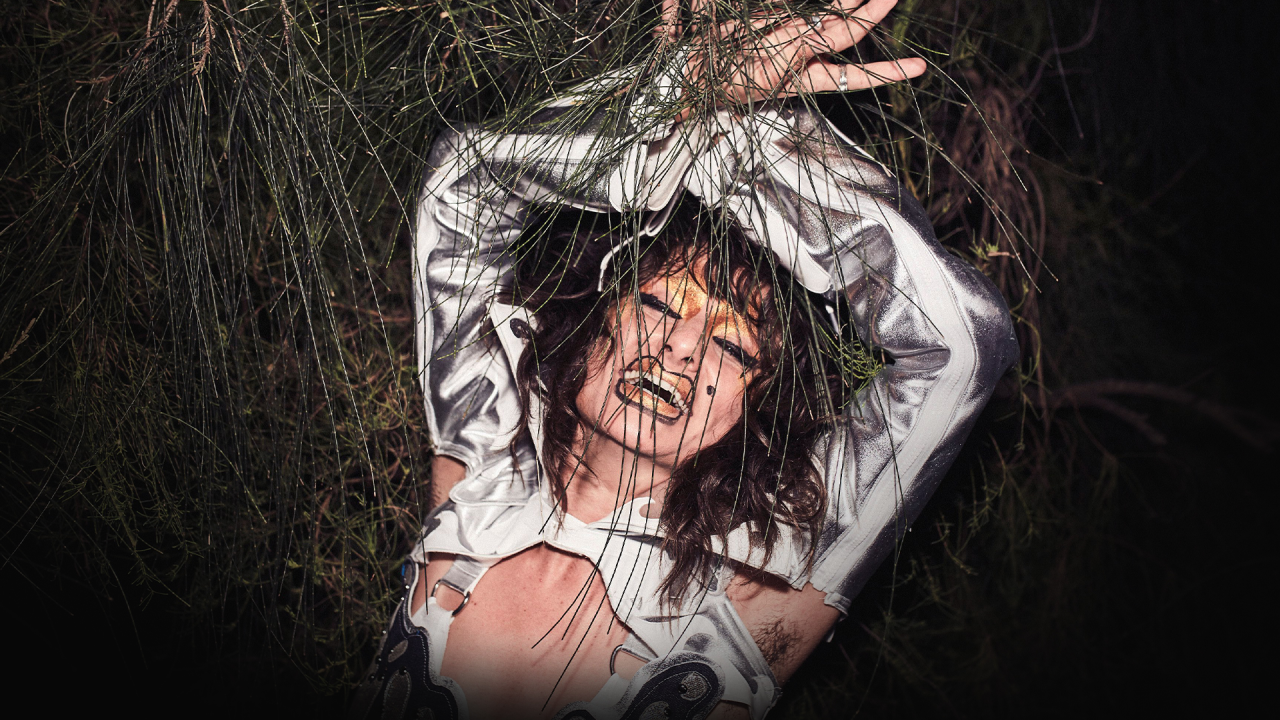 Get in touch with your inner Grumble.
Queensland Premiere
Your lovingly local, hysterically heretic person of interest, Betty Grumble, is back with her new offering, Enemies of Grooviness Eat Sh!t, a deep dive into grief, pleasure and justice.
Grumble continues her quest for world saving and lovemaking via our ancestors of rock 'n' roll, poetry and protest in this all-singing, all-howling cabaret du Sex Clown.
You're invited into a space for trouble, recognition and raising the vibration towards equal parts hope, love, flesh and rage energies.
Creator Emma Maye Gibson
Performers Betty Grumble & Megana Holliday
Dramaturg / Art Doula Victoria Spence
Original Dramaturgical Team Dr Vivienne Linsley, Charlotte Farrell & Dr Annie Sprinkle
Care Consultant Stella Delight
Sound Design Betty Grumble & stereogamous
Pussy Print Flag Ms Saffaa
Costume Design Matthew Stegh & Haus of Helmutti
Lighting Design & Operator Alex Torney
Producer Performing Lines
Image by Liz Ham
Enemies of Grooviness Eat Sh!t is produced by Performing Lines and supported by the NSW Government through Create NSW, and the Australian Government through the Australia Council for the Arts; its arts funding and advisory body. This project was originally supported by The Red Rattler Theatre.
This event is presented as part of The Tivoli and The Princess Theatre's Open Season program. Supported through Tourism and Event Queensland, the Queensland Government through Arts Queensland, and both the Live Music Australia Fund and the Restart Investment to Sustain and Expand (RISE) - initiatives of the Australian Government.
Production Partners
Price
$39 - $54 + Booking fee
Important Info
Strictly for audiences 18+ years
Warning: This production contains explicit full-frontal nudity, sexual acts and sex scenes, discussions of intimate partner violence, sexual violence, ecocide, death and grief, and strobe lighting.
September 2021
Mon
Tue
Wed
Thu
Fri
Sat
Sun

1

//= implode(' + ', $times); ?>

2

//= implode(' + ', $times); ?>

3

//= implode(' + ', $times); ?>

4

//= implode(' + ', $times); ?>

5

//= implode(' + ', $times); ?>

6

//= implode(' + ', $times); ?>

7

//= implode(' + ', $times); ?>

8

//= implode(' + ', $times); ?>

9

//= implode(' + ', $times); ?>

10

//= implode(' + ', $times); ?>

11

//= implode(' + ', $times); ?>

12

//= implode(' + ', $times); ?>

13

//= implode(' + ', $times); ?>

14

//= implode(' + ', $times); ?>

15

//= implode(' + ', $times); ?>

16

//= implode(' + ', $times); ?>

17

//= implode(' + ', $times); ?>

18

//= implode(' + ', $times); ?>

19

//= implode(' + ', $times); ?>

20

//= implode(' + ', $times); ?>

21

//= implode(' + ', $times); ?>

22

//= implode(' + ', $times); ?>

23

//= implode(' + ', $times); ?>

24

//= implode(' + ', $times); ?>

25

//= implode(' + ', $times); ?>

26

//= implode(' + ', $times); ?>

27

//= implode(' + ', $times); ?>

28

//= implode(' + ', $times); ?>

29

//= implode(' + ', $times); ?>

30

//= implode(' + ', $times); ?>
"Transformative and WILD. See Grumble."

Peaches
"In performing her own unfiltered pleasure, Betty reclaims her sexuality and her body for herself, and for all people who have had their bodies weaponised against them."

Time Out