14—17 Sep
Brisbane Festival and Metro Arts present
Mistero Buffo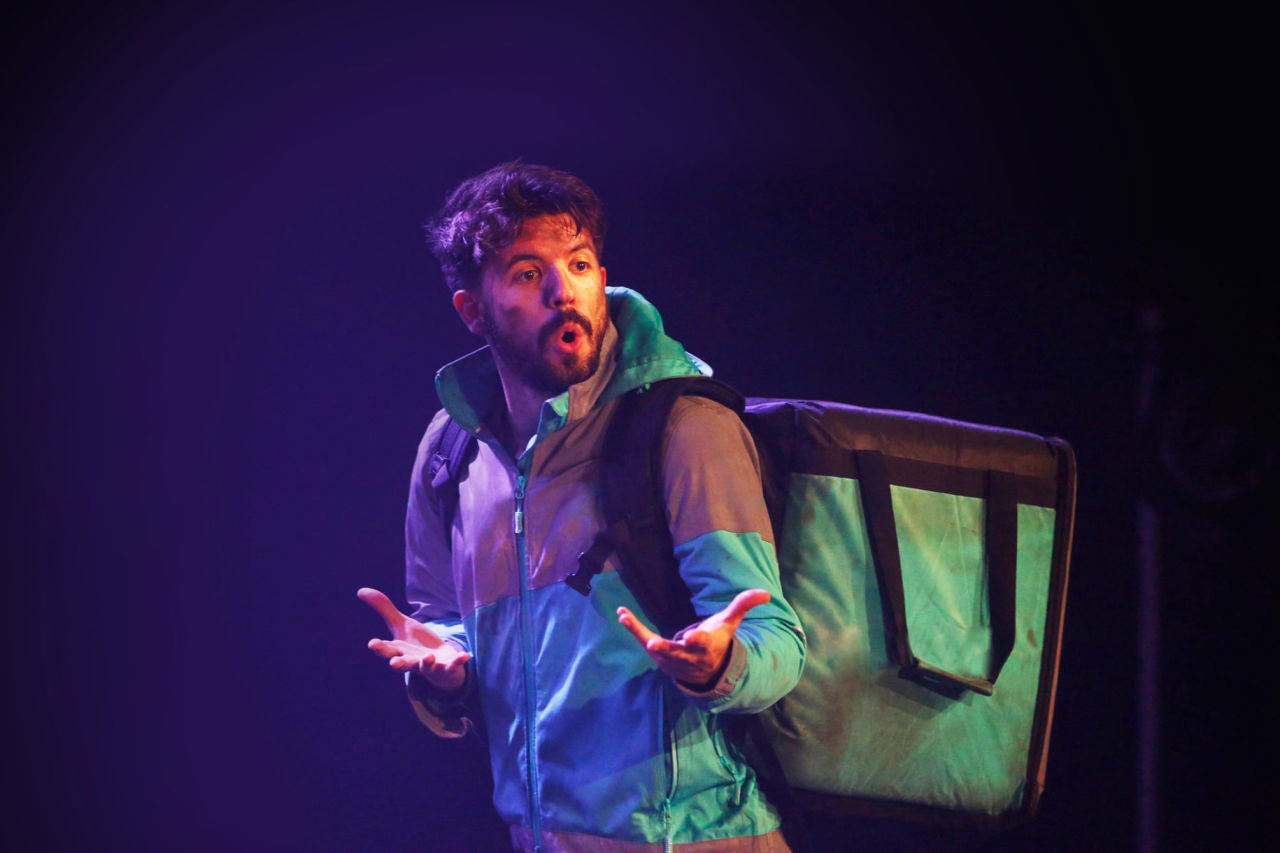 A devilishly funny masterpiece.
Australian Premiere
An extraordinary, virtuosic romp through a hundred characters and locations by one incredible performer. Our 21st century travelling storyteller, a Deliveroo driver at the centre of the gig economy, rushes from his last job of the day to deliver a subversive, gleeful rallying cry for the disillusioned and disenfranchised.
Award-winning theatre company, Rhum and Clay (UK), present Dario Fo's devilishly funny masterpiece. A darkly comic look at the absurdities and inequalities of everyday life as seen through the eyes and tales of a travelling storyteller!
With culture wars driving division and a pandemic that has highlighted vast economic inequalities, can laughter (and a little righteous anger) help unite us?
Written by Dario Fo & Translated by Ed Emery
Rhum & Clay (UK)
Writer Dario Fo
Translation Ed Emery
Additional Writing Nicholas Pitt & Julian Spooner
Performer Julian Spooner
Director Nicholas Pitt
Lighting Design Geoff Hense
Sound Design Jonathan Ouin
Costume Design Emily Bates
Producer Rhum + Clay

This production was originally supported by Arts Council England and New Diorama Theatre. Presented in conjunction with HOTA and Empire Theatres.

Image by Luke Forsythe.
Production Partners
---
Price
$38 - $45 + Booking fee
Where
New Benner Theatre, Metro Arts
Accessibility
Assistive listening systems available
Important Info
Suitable for ages 15+
Warnings: contains sexual references, adult themes, haze, coarse language, violence and a reference to rape.
Schools: access educational packs and schools ticketing here.

Dates in September
| Mon | Tue | Wed | Thu | Fri | Sat | Sun |
| --- | --- | --- | --- | --- | --- | --- |
| | | | | | | |
| | | | | | | |
| | | | | | | |
| | | | | | | |
| | | | | | | |
---
Magnificent production... with an astounding performance

The Stage
A Shapeshifting, Body Popping,
Mesmerising Performance.

WhatsOnStage
As a mime he is flawless, as a storyteller he is utterly compelling.

Broadway Baby
Join Mistero Buffo solo star Julian Spooner for a half-day workshop.

Rhum + Clay Theatre Company
Award-winning theatre company, Rhum + Clay, embraces the magical, the comical and the intoxicating, but is willing to scrabble in the dirt where the real stories are to be found; excavating for the urgent, the complicated and the beautiful.