5 Sept
First Nations Fashion:
Walking In Two Worlds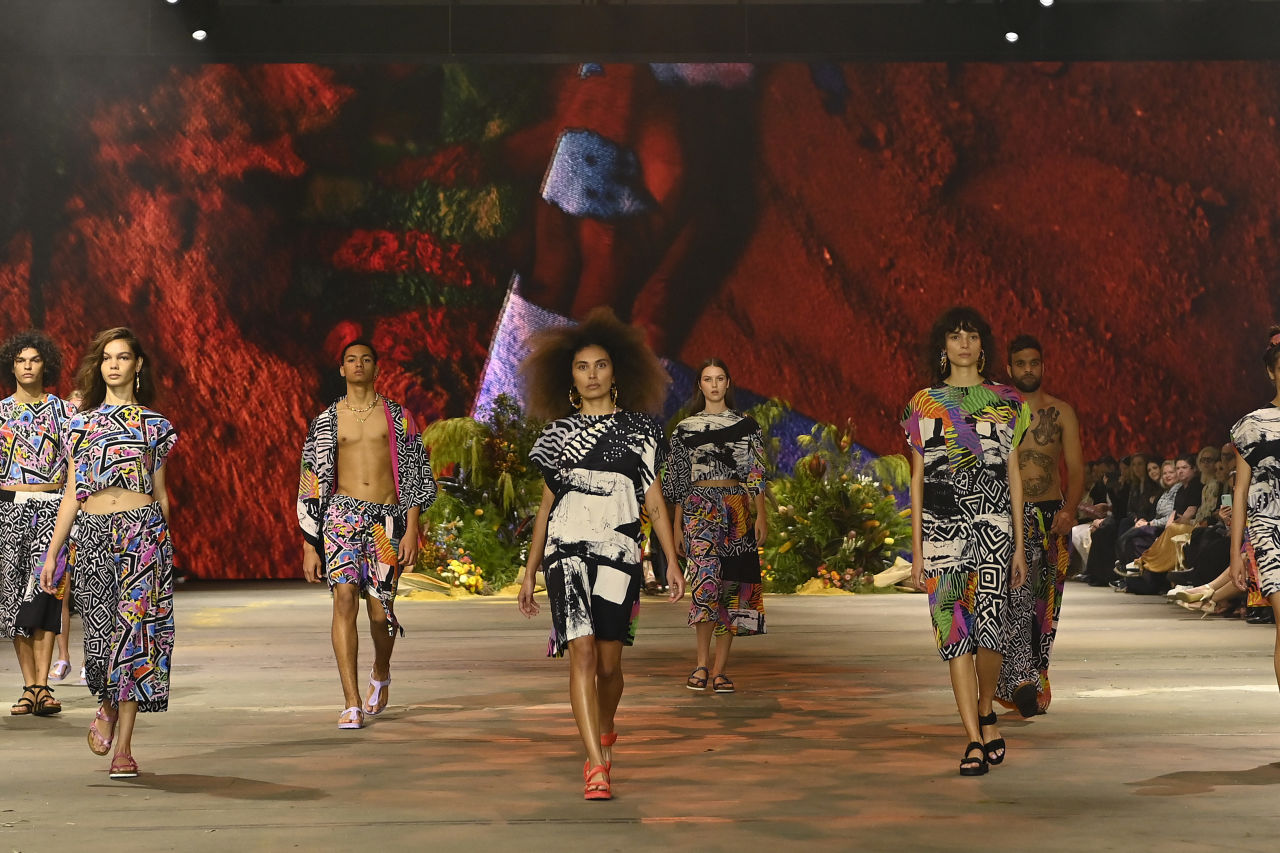 Direct from Australian Fashion Week to you - the runway event of the year.
Brisbane Festival and Screen Queensland present
Bringing together a selection of contemporary garments and textiles by First Nations designers, multicultural Australian artist, Grace Lillian Lee, has created a literal platform in way of a runway for cultural celebration.
Involving designers from across Australia and 20 local models, First Nations Fashion: Walking In Two Worlds is an exemplary showcasing of Indigenous fashion, dance, film and live music from hip hop artist Kaylah Truth.
Transporting audiences between two worlds, this is a fashion show like no other.
DESIGNERS
Nat Orchard - Iharaa Swim
Natalie Cunningham - Native Swimwear Australia
Karen Rodgers - Ngukurr Arts
Nancy Pattison - Indii Swim
Elverina Johnson
Troy Casey & Amada Hayman - Magpie Goose
Fiona Wirrer-George
MODELS
Perry Mooney - Model Metor
Lisa Fatnowna - Model Mentor
Brooke McGlone
Sarima Chong
Ruby Hunter
Sene Gibuma-Marr
Keeley-Shae Bushman
Chanel Jones (Currie)
Lisa De La Haye
Tanesha Stanley
Kashana Wallace
Elaine George
Marie Jones
Kayci-Lee Gillies
Ebony Wirrer-George
Jamaine Wilesmith
Lindyn Rowland
Dylan Rettke-AhWang
Leonard Hayes
Pierce Jones
Boysie Power
DANCERS
Tyrel Dulvarie - Choreographer
Zacharia Ketchup
Kahlil Coolwell
Vanessa Coolwell
Sharnae Smith
MUSICIAN
Kaylah Truth
FIRST NATIONS FASION & DESIGN
Grace Lillian Lee - Creative Director
Teagan Cowlishaw - Producer
Monique Burkhead - BOH Manager
Sam Gibb - Production / Stage Manager
Matthew Jordan - Publicist
Prita Tina (تینا) Yeganeh - Production Assistant
Jirra Harvey - FOH Manager
Jarron Andy - Event Host
Lomas Amini - Cultural Mentor
Image by Pamela Pirovic
VIDEO PRODUCTION - WIRRIM MEDIA
Richard Jameson
Abraham Byrne-Jameson
Michael Bissell
Ryan Blake
Shannon Hayes
HAIR & MAKEUP
MECCA
Loreal
SHOE SPONSORS
Superga
Twoobs
WITH THANKS
The entire Brisbane Aboriginal and Torres Strait Islander community.
We pay our respects to the Traditional Owners of country, including the custodial neighbouring communities on whose land works are created, performed and celebrated.
Australia Council for the Arts
Brisbane Festival
Judith Wright Arts Centre
The Emporium
Sandra King
Simon Goodall
Elaine George
Blak Lash Projects
This project is supported through the Giving Program by Tim Fairfax AC and Gina Fairfax.
Production Partners
---
Price
Single admission $50. Groups of four $45 each.
Accessibility
75% Visual Content. Minimal dialogue, some background music and/or sounds
Dates in September
| Mon | Tue | Wed | Thu | Fri | Sat | Sun |
| --- | --- | --- | --- | --- | --- | --- |
| | | | | | | |
| | | | | | | |
| | | | | | | |
| | | | | | | |
| | | | | | | |
---
In these clothes, fashion reminds us of its potency to express identity, to challenge existing power structures and accepted histories, and to reshape the idea the world has of Australian fashion: It is more than summer clothing and dependable ease.

Vogue