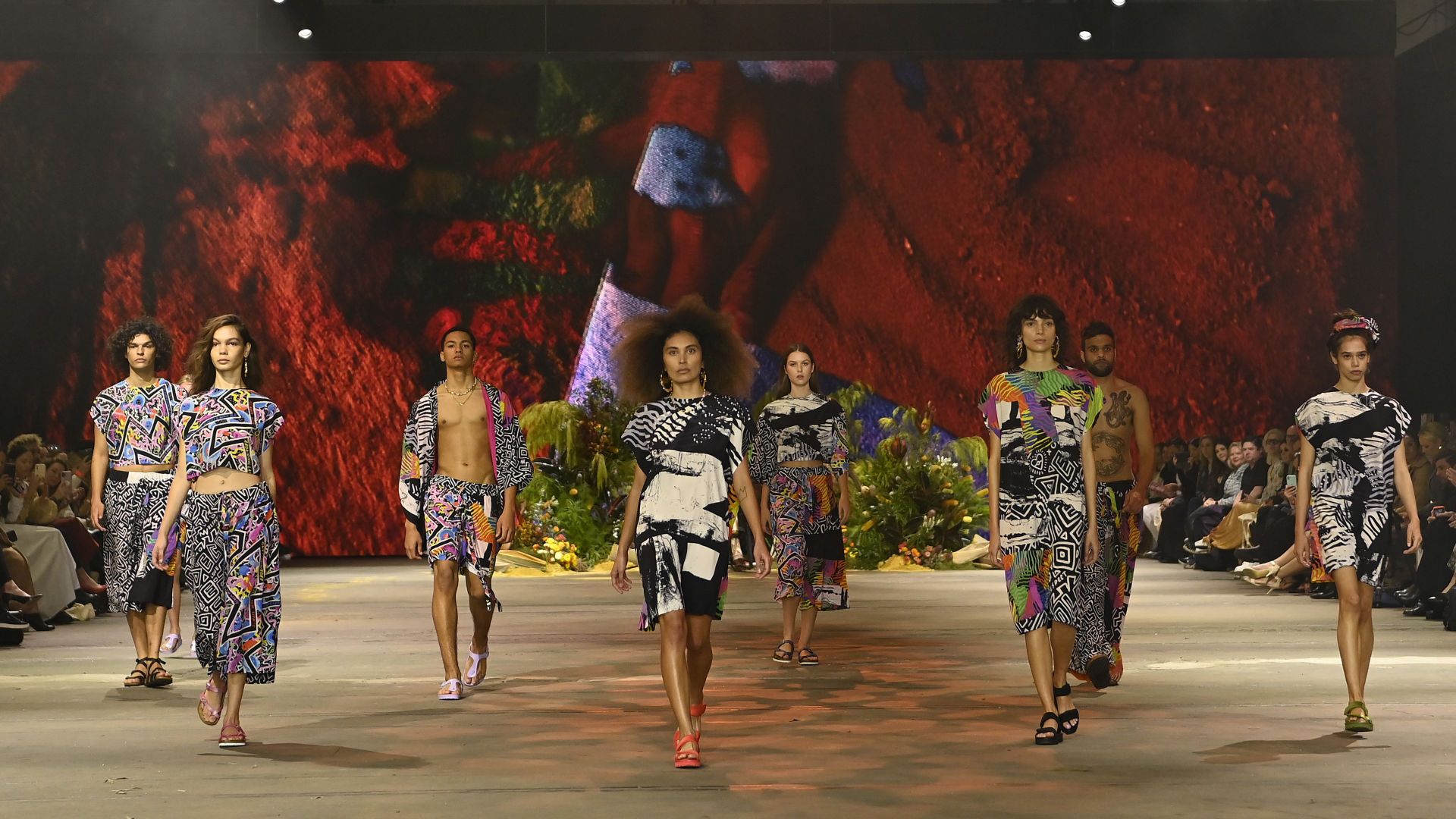 Brisbane Festival and Screen Queensland present
First Nations Fashion:
Walking In Two Worlds
5 Sept
Direct from Australian Fashion Week to you - the runway event of the year.
Bringing together a selection of contemporary garments and textiles by First Nations designers, multicultural Australian artist, Grace Lillian Lee, has created a literal platform in way of a runway for cultural celebration.
Involving designers from across Australia and 20 local models, First Nations Fashion: Walking In Two Worlds is an exemplary showcasing of Indigenous fashion, dance, film and live music.
Transporting audiences between two worlds, this is a fashion show like no other.

Director Grace Lillian Lee
National Coordinator Teagan Cowlishaw
Image by Pamela Pirovic
This project is supported through the Giving Program by Tim Fairfax AC and Gina Fairfax.

Production Partners
Price
Single admission $50. Groups of four $45 each.
Accessibility
75% Visual Content. Minimal dialogue, some background music and/or sounds
Important Info
Suitable for all ages
September 2021
Mon
Tue
Wed
Thu
Fri
Sat
Sun

1

//= implode(' + ', $times); ?>

2

//= implode(' + ', $times); ?>

3

//= implode(' + ', $times); ?>

4

//= implode(' + ', $times); ?>

5

//= implode(' + ', $times); ?>

6

//= implode(' + ', $times); ?>

7

//= implode(' + ', $times); ?>

8

//= implode(' + ', $times); ?>

9

//= implode(' + ', $times); ?>

10

//= implode(' + ', $times); ?>

11

//= implode(' + ', $times); ?>

12

//= implode(' + ', $times); ?>

13

//= implode(' + ', $times); ?>

14

//= implode(' + ', $times); ?>

15

//= implode(' + ', $times); ?>

16

//= implode(' + ', $times); ?>

17

//= implode(' + ', $times); ?>

18

//= implode(' + ', $times); ?>

19

//= implode(' + ', $times); ?>

20

//= implode(' + ', $times); ?>

21

//= implode(' + ', $times); ?>

22

//= implode(' + ', $times); ?>

23

//= implode(' + ', $times); ?>

24

//= implode(' + ', $times); ?>

25

//= implode(' + ', $times); ?>

26

//= implode(' + ', $times); ?>

27

//= implode(' + ', $times); ?>

28

//= implode(' + ', $times); ?>

29

//= implode(' + ', $times); ?>

30

//= implode(' + ', $times); ?>
"In these clothes, fashion reminds us of its potency to express identity, to challenge existing power structures and accepted histories, and to reshape the idea the world has of Australian fashion: It is more than summer clothing and dependable ease."

Vogue