Air is slowly emptying from a large transparent inflatable structure, ultimately sealing its inhabitants in preserved isolation.
Queensland Premiere
Tens of thousands of years ago, a genetic mutation gave rise to red hair in humans. Now, like many, they are endangered.

Dancenorth uses the plight of its dancers as an allegory for a contracting world; a world where biodiversity is progressively being suffocated and silenced.
Epic and intimate, RED illuminates the universal challenge of our survival. Time is running out.
Concept, Direction & Choreography Amber Haines and Kyle Page
Music Ellen Arkbro
Composition/Sound Design Alisdair Macindoe; with music by Ellen Arkbro and vocals by Sara Black
Lighting Design Niklas Pajanti
Costume Design Harriet Oxley
Inflatable Structure Design Consultant David Cross
Dramaturgy Gideon Obarzanek
Performers/Choreographers Marlo Benjamin and Nelson Earle
Image by Amber Haines

This project is supported through the Giving Program by Tim Fairfax AC and Gina Fairfax.

This project has been assisted by the Australian Government's Major Festivals Initiative, managed by the Australia Council, its arts funding and advisory body, in association with the Confederation of Australian International Arts Festivals Inc., commissioned by Rising, Brisbane Festival, Darwin Festival, and Ten Days on the Island.
Production Partners
Times
Wed - Sun 7:30pm
Sat 3pm

Strict lockout: please arrive 15 minutes prior to the starting time
Important Info
Recommended for ages 15+
Warning: Nudity and sound pressure effects (loud noises)
This performance has a strict lockout. Please arrive a minimum of 15 minutes prior to the start time.

Sept 2021
| Mon | Tue | Wed | Thu | Fri | Sat | Sun |
| --- | --- | --- | --- | --- | --- | --- |
| | | | | | | |
| | | | | | | |
| | | | | | | |
| | | | | | | |
| | | | | | | |
"It's remarkable, brilliant and just 45 minutes long. It's like a 45 minute long visual poem or a 45 minute long moving sculpture."

Courier Mail
on RED
"The intense focus of the dancers is immaculate, creating a deeply immersive atmosphere."

Limelight Magazine
on Dust by Dancenorth
#While you're at Northshore
take a cruise on
Brisbane's Art Boat
A floating art experience hitting the water this September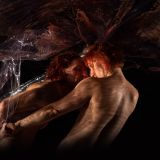 Dancenorth
A major champion of the arts in regional North Queensland, Dancenorth is one of Australia's leading contemporary dance companies creating compelling works that tour the globe.