Brisbane Festival and Metro Arts present
This Ain't No Pussy Show
17 – 18 Sept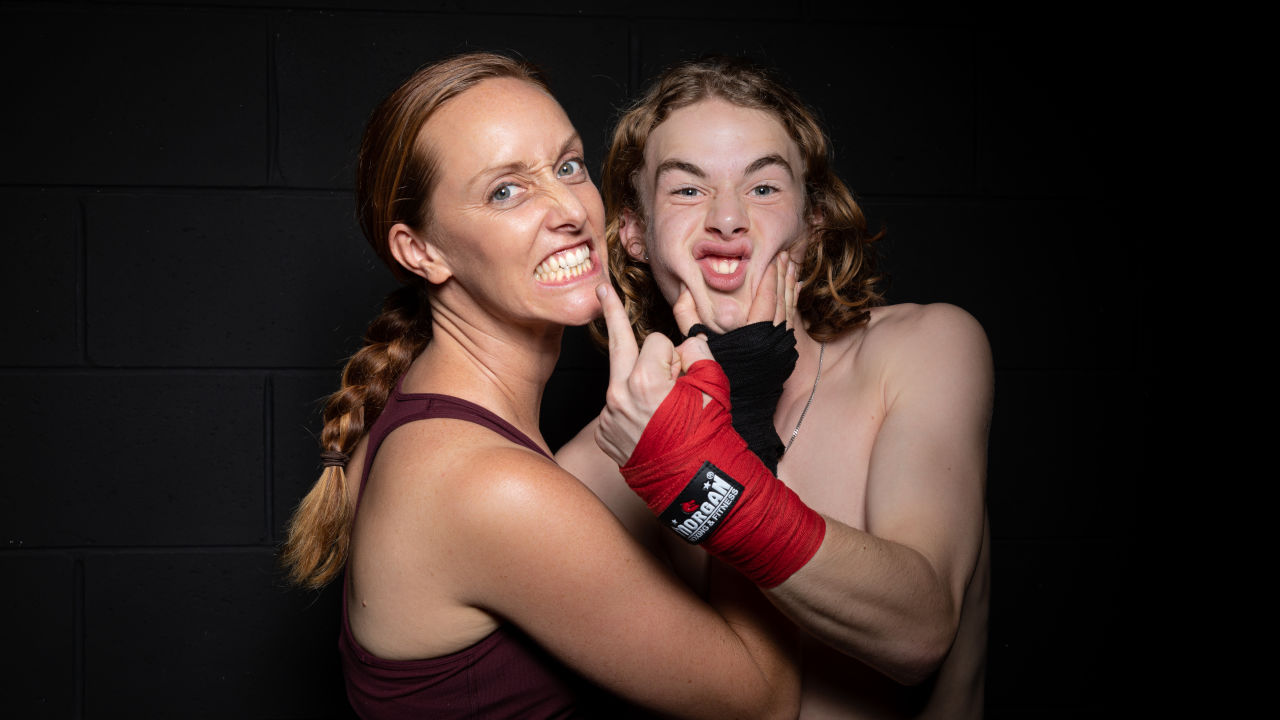 ​​Ever wondered if patriarchy was a pyramid scheme for men?
World Premiere
Kate Harman and Toby Angus
Kate has and she's not pussying about; she has a boy to raise, and he has questions.
Why are you shouting? Am I really toxic? How come you can say dick, but I can't say pussy?
She has questions as well.
Through the relationship of a mother and son, This Ain't No Pussy Show explores everything from privilege and patriarchy to feminism and matriarchy.
Using text, movement, skateboarding, map-making and rap music, it's a messy, wild and unpredictable ride to find all the answers.
This show has been made in a collaborative process where everyone brings their expertise but are not confined to it.
Concept, Direction & Performance Kate Harman
Collaboration & Performance Toby Angus
Co-direction & Writing Gavin Webber
Dramaturgy Min Collie-Holmes
Composition & Sound Design Anna Whitaker
Lighting Designs & Production Chloe Ogilvie
Produced by The Farm
This Ain't No Pussy Show is produced by The Farm with development support from La Boite as part of HWY 2020, and supported by Supercell: Festival of Contemporary Dance through The Makers Program – a commissioning project assisted by the Australian Government through the Australia Council, its arts funding and advisory body; the Queensland Government through Arts Queensland; the Regional Arts Development Fund which is a partnership between the Queensland Government and City of Gold Coast to support local arts and culture in regional Queensland; and proudly supported by HOTA Home of the Arts. Additional development support has come from WOW Australia.

Production Partners
Price
$35-$42 + Booking fee
Times
Evenings: Fri & Sat 7:30pm
Matinee: Sat 3:00pm
Duration
Approximately 50 minutes. No interval.
Important Info
15+
Course language
Strobe lighting, haze and smoke may be used throughout the production.
Accessible seating: Tickets for patrons with accessibility needs and/or Companion Card holders are available when calling 07 3002 7100.

September 2021
Mon
Tue
Wed
Thu
Fri
Sat
Sun

1

//= implode(' + ', $times); ?>

2

//= implode(' + ', $times); ?>

3

//= implode(' + ', $times); ?>

4

//= implode(' + ', $times); ?>

5

//= implode(' + ', $times); ?>

6

//= implode(' + ', $times); ?>

7

//= implode(' + ', $times); ?>

8

//= implode(' + ', $times); ?>

9

//= implode(' + ', $times); ?>

10

//= implode(' + ', $times); ?>

11

//= implode(' + ', $times); ?>

12

//= implode(' + ', $times); ?>

13

//= implode(' + ', $times); ?>

14

//= implode(' + ', $times); ?>

15

//= implode(' + ', $times); ?>

16

//= implode(' + ', $times); ?>

17

//= implode(' + ', $times); ?>

18

//= implode(' + ', $times); ?>

19

//= implode(' + ', $times); ?>

20

//= implode(' + ', $times); ?>

21

//= implode(' + ', $times); ?>

22

//= implode(' + ', $times); ?>

23

//= implode(' + ', $times); ?>

24

//= implode(' + ', $times); ?>

25

//= implode(' + ', $times); ?>

26

//= implode(' + ', $times); ?>

27

//= implode(' + ', $times); ?>

28

//= implode(' + ', $times); ?>

29

//= implode(' + ', $times); ?>

30

//= implode(' + ', $times); ?>