Sat 16 Sep
Brisbane Festival, Archie Brothers Cirque Electriq and King St Present
80s King St. Party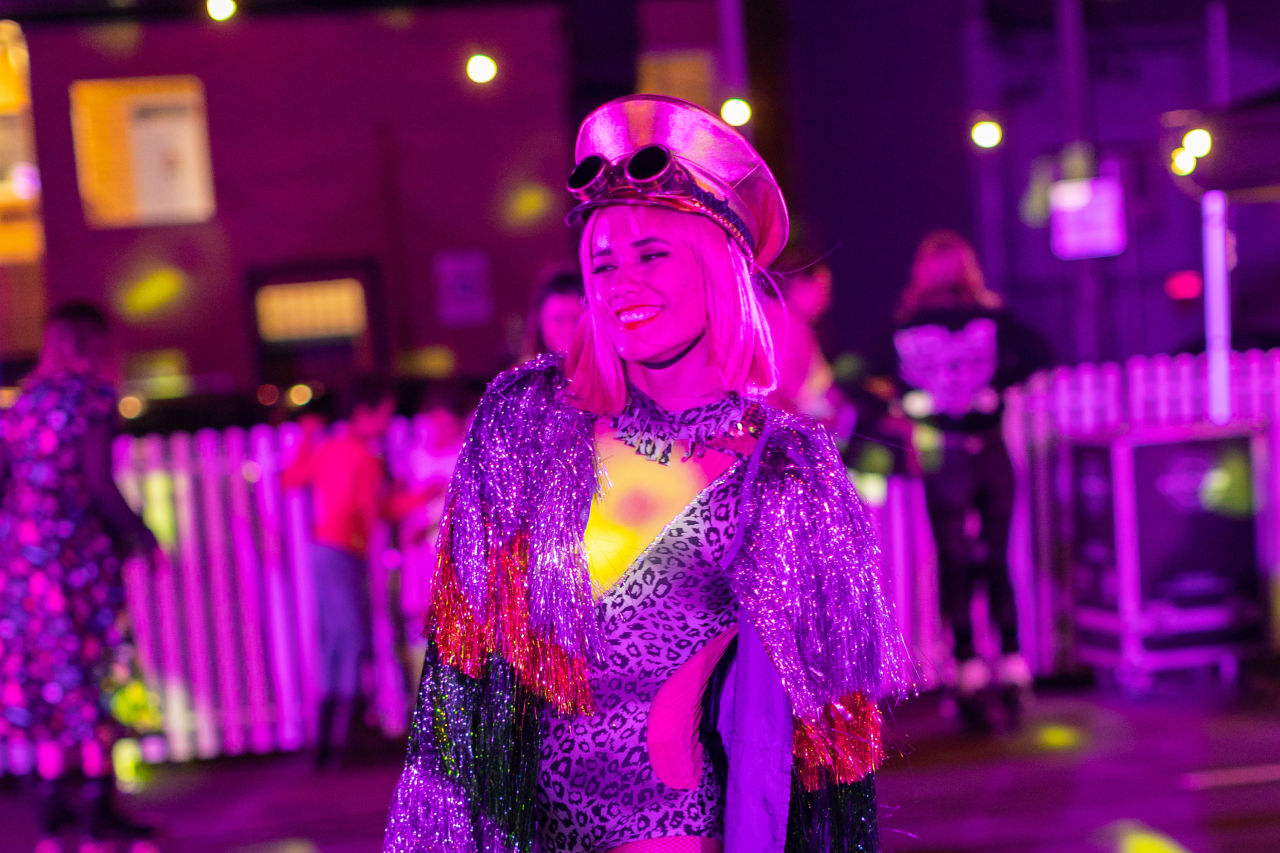 Get Ready to Groove! Dust off your rollerskates and break out the bubble skirts… it's party time.
Step into a time machine and transport yourself back to the era of neon lights, funky beats, and totally rad fashion.
King St comes alive as we present the most epic 80s themed street party that you won't want to miss… a night filled with dance comps, rollerskating and retro disco, and inflatable arcade machines that will bring back fond memories for many, and be an eye opener for those younger kids on the block!
It's going to be a night of nostalgia, non-stop dancing, and good old-fashioned fun. Mark your calendar, gather your crew, and let's party like it's 1989! Can you dig it?
Schedule:
5:00PM:

On-street retailers ready for service of food and drinks!

Party starts with Sammie D, DJ Bacon, Elements Collective, Rolla Bae, Dead Puppets Society's Flamingos and Eness installation Esc. With Us

Registrations open for session 1 of rollerskating.

5:15PM: Session #1 Rollerskating (30-mins)
5:45PM: Registration opens for session 2 rollerskating.
6:00PM: Session #2 Rollerskating (30-mins)
6:30PM: Registration opens for session 3 rollerskating.
6:45PM: Session #3 Rollerskating (30-mins)
7:15PM: Registration opens for session 4 rollerskating.
7:30PM: Session #4 Rollerskating (30-mins)
8:00PM: Registration opens for session 5 rollerskating.
8:00PM Sammie D announces award ceremony – best dressed, best moves, prom qween and prom king!
8:15PM: Session #5 Rollerskating (30-mins)
Image by Novasoma Photography
Roller skate rink by Rolla Bae
Dance party by Elements Collective
MCs Sammie D and DJ Bacon
Roving Flamingos with Dead Puppet Society
Esc. With Us by ENESS

---
Price
Free! Just bring your awesome 80s spirit!
Dates in September
| Mon | Tue | Wed | Thu | Fri | Sat | Sun |
| --- | --- | --- | --- | --- | --- | --- |
| | | | | | | |
| | | | | | | |
| | | | | | | |
| | | | | | | |
| | | | | | | |

Rolla Bae
Rolla Bae is a mobile roller disco run by sisters. They bring the party to locations across Brisbane, Gold Coast, and Sunshine Coast, complete with a crew of skaters, disco balls, and a retro caravan stocked with colorful skates.

Dead Puppet Society
Dead Puppet Society creates deeply imaginative design-led theatre, public art and sculpture, combining timeless craftsmanship with cutting-edge technology. Best known for their works Holding Achilles, Ishmael, The Wider Earth and Laser Beak Man

ENESS
ENESS, founded in 1997, transforms spaces with innovative public art installations. Renowned for pioneering techniques like 3D projection mapping, the multidisciplinary team includes artists, engineers, designers, and a writer.