Sat 23 Sep
Brisbane Festival and Brisbane City Council Present
Closing Concert: All Together Now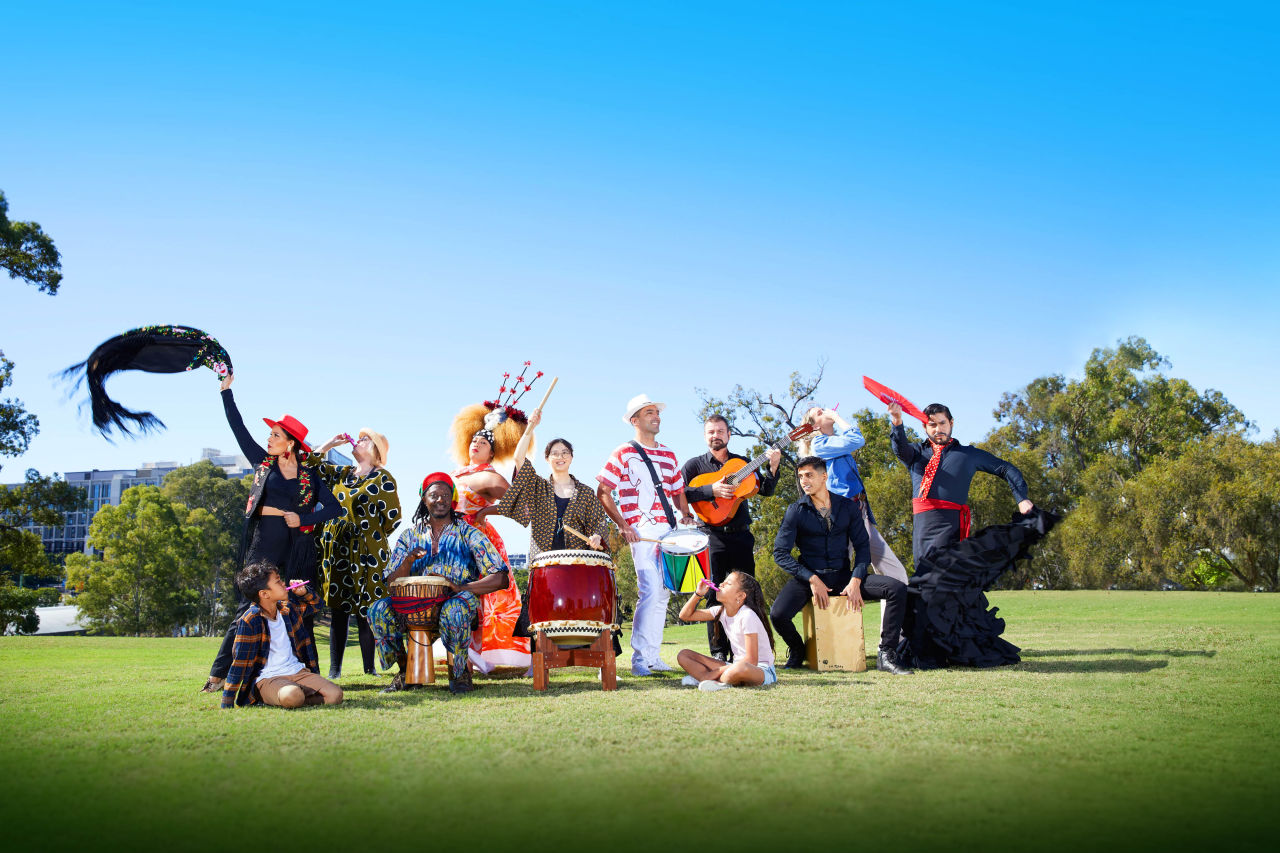 Unite for a Festival Finale like no other.
Stand up, make noise and join the fun.
Join us for a grand gathering in Victoria Park as we bid farewell to another spectacular festival. The stage is set for the people of Brisbane to come together for a mass participation event, as we invite the whole city to sing, dance and kazoo to their heart's content.
Bring friends and family to share in the joy of an afternoon of free music and dance from around the world that will have you immersed in the celebration of music, rhythm, dance, and sound.
Join in on a high energy celebration of Pasifika culture in Siva Mai Club, a Flamenco family fiesta with Flamenco House, be one of the thousands of kazoos playing in unison; and feel the full force of a mass group of community drummers banging out a glorious dance beat as Dancenorth takes the stage to close out Brisbane Festival 2023. You'll be swept away by this wonderful celebration of some of the multicultural creatives who call Brisbane home.
| Time | Activity |
| --- | --- |
| 3:30pm-4:00pm | Doors Open |
| 4:00pm-4:10pm | Welcome to Country |
| 4:10pm-4:20pm | All Together Now Official Opening |
| 4:20pm-4:35pm | On Stage Kazoo Workshop |
| 4:35pm-4:40pm | Dance Warmups |
| 4:40pm-4:45pm | Pink Matter Dance Performance |
| 4:45pm-4:50pm | Countdown To 10,000 Kazoos |
| 4:50pm-5:10pm | 10,000 Kazoos |
| 5:10pm-5:20pm | All Together Now Dance Party |
| 5:20pm-5:50pm | Pena Flamenco |
| 5:50pm-6:00pm | Health and Wellbeing: Candy Surprise Workout |
| 6:00pm-6:40pm | Siva Mai Club |
| 6:40pm-6:45pm | Golden Kazoo Competition Draw |
| 7:00pm-7:20pm | NOISE |
| 7:20pm-7:30pm | Acknowledgements |
This project is supported through the Giving Program by Tim Fairfax AC & Gina Fairfax AC
Production Partners
---
Where
Victoria Park / Barrambin
271 Gilchrist Avenue,
Herston QLD 4006
Getting Here
Accessibility
Auslan interpreted events
Dates in September
| Mon | Tue | Wed | Thu | Fri | Sat | Sun |
| --- | --- | --- | --- | --- | --- | --- |
| | | | | | | |
| | | | | | | |
| | | | | | | |
| | | | | | | |
| | | | | | | |
---
#Public Transport
If you're attending via public transport, the below details may help you plan your journey.
By Train
To visit Victoria Park by train We suggest disembarking at Bowen Hills, Roma St or Fortitude Valley railway stations then take a taxi or bus to Herston Rd. For more information visit translink.com.au to plan your journey.
By Bus
Herston Busway Station is located only a short walk from Victoria Park with buses 66, 330, 333 and 340 stopping regularly, collecting passengers from north to south and passing through the Brisbane CBD.
By Car
Enter the carpark at 271 Gilchrist Ave, Herston QLD 4006. Parking is available at a $10 flat rate (card payments only please). The carpark is open from 1pm – 10pm on the day of the event.
By Taxi or Ride Share
The best drop off point for the event is 271 Gilchrist Ave, Herston QLD 4006.
Kite Building Workshop 3:30pm - 6:00pm

Walk the Walk From 2:00pm
Victoria Park is the perfect place to boost your daily step count with the internal paths weaving through lush parklands under shady canopies. The marked walking track will earn you 3,000 steps towards your goal, and you may even discover a golden kazoo on your journey!

Food, Bars & Market Stalls
Flamingos Roving Entertainment 5:45pm – 7:00pm

Health and Wellbeing: Hula Hoop Workshop 4:00pm – 5:30pm

Health and Wellbeing Queensland's Festival Active Hub. Get into the groove and MOVE! The Health and Welbeing Queensland Festival Active Hub will be your dance destination with aerobics, drag yoga and more!
The Active Hub is free entry and suitable for all ages and fitness levels! Health and Wellbeing Queensland's Festival Active Hub

Dancenorth Australia
Recognised as one of Australia's leading performing arts companies, Dancenorth Australia balances a dynamic regional presence with a commitment to creating compelling contemporary dance that tours the world.

Flamenco House
Spreading flamenco art in Australia with concerts since 2020, the team includes virtuoso guitarist Camaron de la Vega, percussionist Rodrigo Santiago, vocalist Cristina Gonzales Vega, and dancer Anna Rocías.

Siva Mai Club
Get set for a splashy fusion of traditional, cultural, pop-contemporary live music and dance accompanied by suave moves, sprinkled with a dash of island humour and a whole lot of surprises!

10,000 Brisbane Kazoodlers
No musical ability or training? No worries. We promise! Simply stick a kazoo in your mouth, with the pointy end at the world, and send some do-do-dos down that tube.