21 — 23 Sep
Brisbane Festival and Queensland Performing Arts Centre Present
Hide the Dog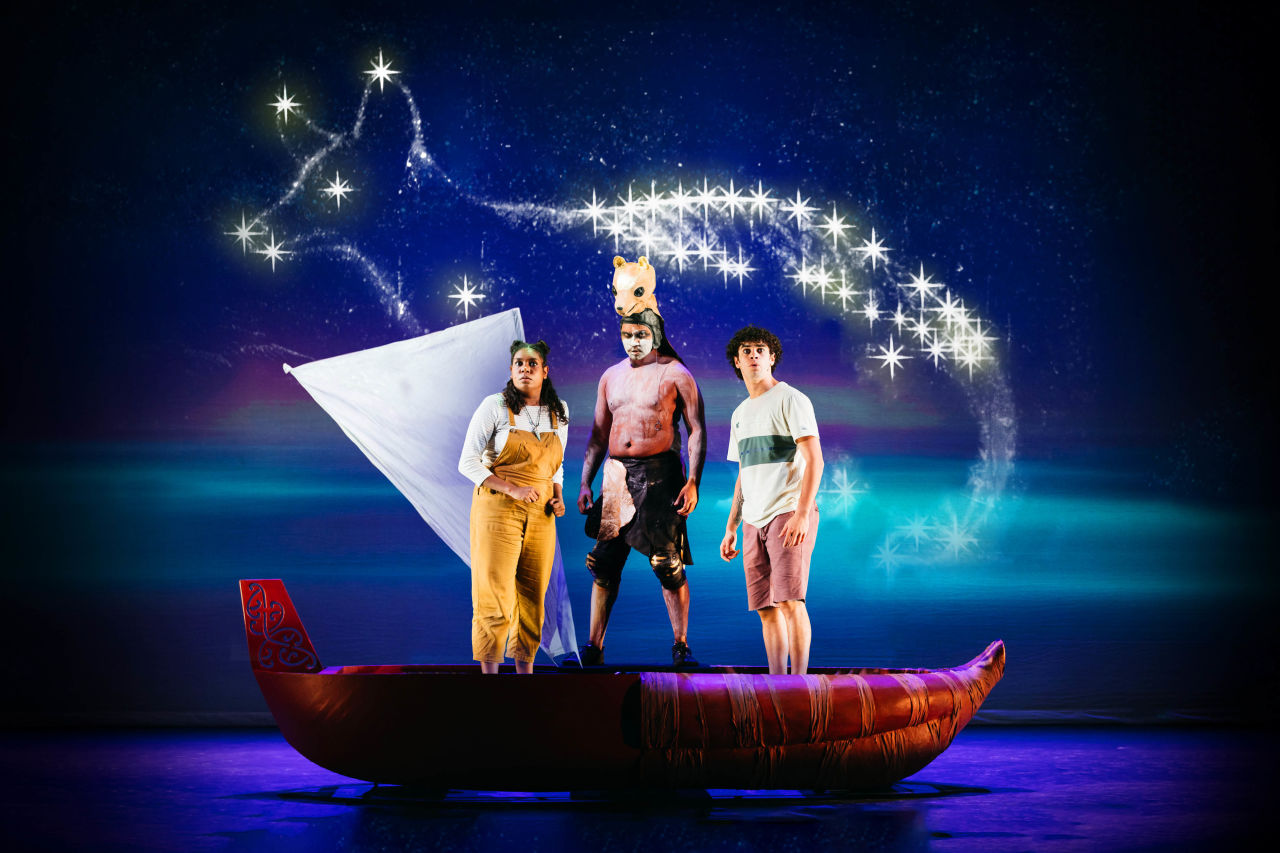 True friendship, big adventure and the power of First Nations' cultures.
World Premiere Season
By Nathan Maynard and Jamie McCaskill

Besties Niarra and Te Umuroa are out playing in the bush. Just another day in paradise – until they glimpse what can only be the world's last Tasmanian Tiger.

Dodging hunters, Niarra and Te Umuroa set sail for Aotearoa to hide their new friend. But hunters aren't the only ones on this Tiger's tail. They'll have to outwit Māori gods and palawa spirits to save their furry friend.
Co-written by Tasmanian playwright Nathan Maynard (pakana) and Aotearoa writer Jamie McCaskill (Māori), Hide the Dog is a truly trans-Tasman creation. This world premiere production from Performing Lines TAS is directed by Isaac Drandic (Noongar) on a rich sound design by Maaka McGregor and stunning costumes by Sabio Evans.
Intrepid explorers of all ages will delight in this heart-warming, family-friendly celebration of true friendship, big adventure and the power of First Nations' cultures.
This project has been assisted by the Australian Government's Major Festivals Initiative, managed by the Australia Council, its Arts Funding and Advisory Body, in association with the Confederation of Australian International Arts Festivals Inc., commissioned by Ten Days on the Island, Brisbane Festival, RISING, Sydney Festival and Perth Festival.
This project is supported through the Giving Program by Tim Fairfax AC & Gina Fairfax AC.
Image by Pat Stevenson and Seán Dowling

Artistic Credits
Nathan Maynard (trawlwoolway pakana) & Jamie McCaskill (Ngāti Tamaterā, Te Ati Haunui a Pāpārangi, Ngā Puhi) - Co-Writers
Isaac Drandic (Noongar) - Director
Nathan Maynard (trawlwoolway pakana) - Assistant Director and pakana Cultural Advisor
Lisa Maza, Tyler Wilson Kokiri (Māori), Najwa Adams Ebel (Birri-Gubba), Poroaki Merritt-McDonald (Māori) - Cast
Jane Hakaraia (Ngāti Raukawa ki te Tonga) - Set Designer
Maaka McGregor (Māori) - Sound Designer
Katanya Maynard - Sound/Vocals
Ben Hughes - Lighting Designer
Keith Deverell - AV Designer
Sabio Evans - Costume Designer
Denni Proctor (pakana) - Associate Designer and Design pakana Guide
Greg Methe - Boat Technical Design
Maakarita Paku - Additional Cultural Advisor
Kaninna Langford (Aboriginal), Jordy Gregg (Murrie) - Muyini song lyric contributor
Nathan Maynard (trawlwoolway pakana) - pakana Cultural Advisor
Maaka McGregor (Māori) - Additional Māori Advice
Denni Proctor (pakana) - Pakana Visual Advisor
Maakarita Paku - Additional Cultural Advice
Dr Meg Upton with Theresa Sainty (pakana) and Kimo Winiata (Māori) - Education Kit
Production Partners
---
Price
$25 — $35 + booking fee. Community ticket pricing is available.
Times
Matinees:
Thu, 11am & 2pm
Sat, 2pm

Evenings:
Fri & Sat, 6pm

AUSLAN Interpreted performance Thursday 21st Sep 2:00pm
Duration
70 mins (no interval)
Accessibility
Assistive listening systems available
Auslan interpreted events
Important Info
Recommended for ages 6+
This production contains the use of smoke, haze, and sound pressure effects (loud noises).
Community ticket pricing is available for Aboriginal, Torres Strait Islanders, Māori and all other First Nation People (please select the "Community" ticket type).

Dates in September
| Mon | Tue | Wed | Thu | Fri | Sat | Sun |
| --- | --- | --- | --- | --- | --- | --- |
| | | | | | | |
| | | | | | | |
| | | | | | | |
| | | | | | | |
| | | | | | | |
---
Hide The Dog is an unexpected coming-of-age story, a reminder to stay in touch with one's culture, to listen to others and learn from First Nations peoples.

Perth Festival 2023, Limelight Magazine
Take your friends and your family of all ages to see Hide the Dog. You'll laugh as you marvel at the creative excellence on display through this feat of storytelling.

Seesaw Magazine
It's hard to think of a better way to open young minds to the enduring richness of First Nations spirituality...

★★★★

The Age

Performing Lines TAS
Originating in Tasmania, the organization pushes boundaries, posing pressing questions and offering new perspectives. They champion risk and celebrate Australia's creative potential.