6 — 9 Sep
Brisbane Festival, Metro Arts in association with CPL – Choice, Passion, Life present
Personal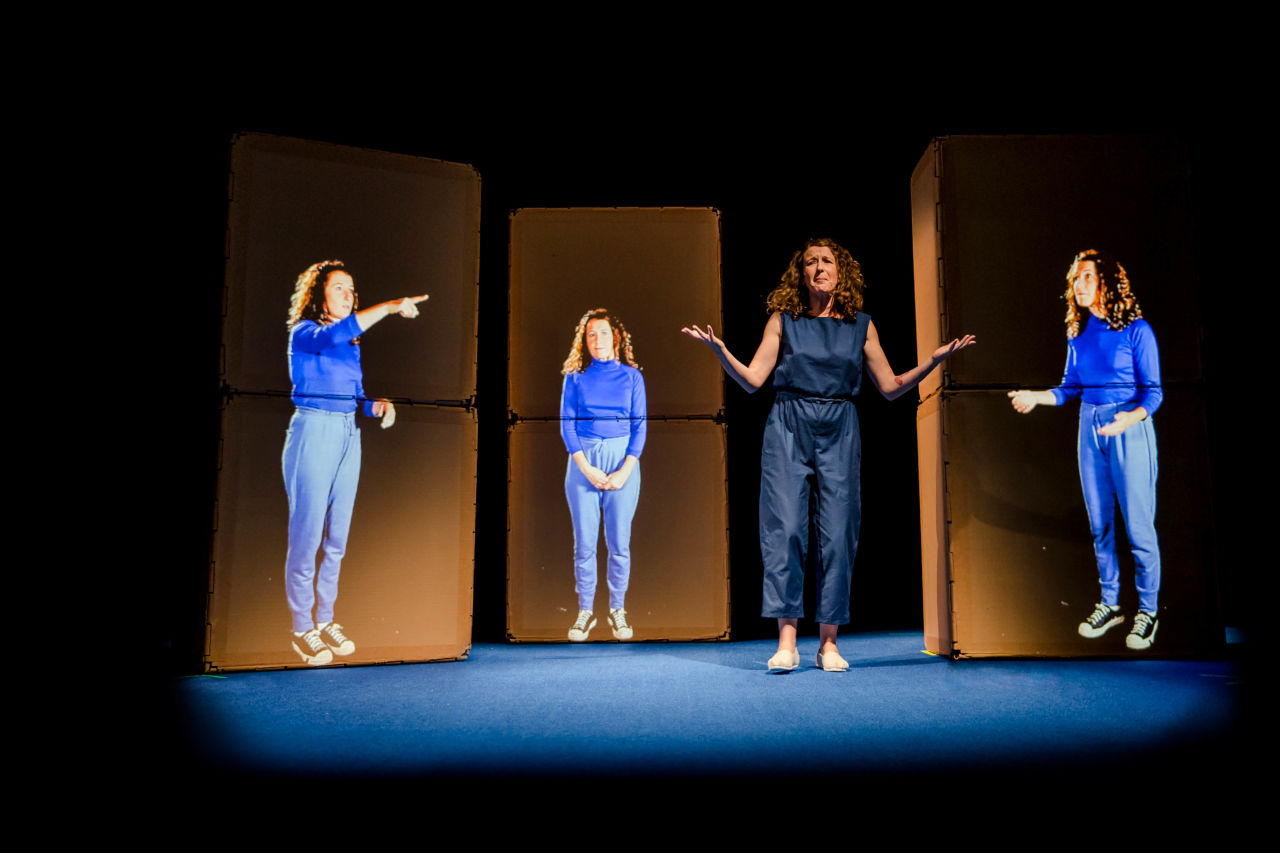 A smart, touching and deeply personal work.
Queensland Premiere
By Jodee Mundy Collaborations and Critical Stages Touring

It wasn't until Jodee Mundy was five years old and lost at Kmart that she realised the rest of her family was Deaf. She didn't see 'disability' – only the love and protection of those closest to her.

In Personal, she conveys her experience as the only hearing person in a Deaf family, through a captivating blend of performance, storytelling, multimedia and animation. Mundy delves into the contradictions of inhabiting two worlds: living in a Deaf family, where using sign language is natural; and living in a society that sees only the family's disability with voyeuristic curiosity.
The role children of Deaf adults play in paving the way for their family – as interpreter, authority, conduit – is central to this very intimate story. Created with a talented team of collaborators and presented in two languages via a virtual interpreter, Personal is a smart, touching and deeply personal work exploring dis/ability and how we perceive one another.
Personal is supported by the Australian Government through the Australia Council for the Arts, it's arts funding and advisory body, the Victorian Government through Creative Victoria, and the NSW Government through Create NSW.
Personal is produced by Critical Stages
This project is supported through the Giving Program by The Dalwood-Wylie Charitable Foundation

Jodee Mundy - Writer & Performer
Merophie Carr - Director
Jen Hector - Set & Lighting Design
Madeleine Flynn and Tim Humphrey - Sound Design
Rhian Hinkley - Video Design
Sandra Fiona Long - Script Dramaturg
Jo Dunbar - Movement Consultant
Gavin Rose-Mundy - Auslan Translation Consultant
Alice Pollard - Production Manager/Operator
FOR CRITICAL STAGES TOURING
Robbi James - CEO & Director
Mel Carolan - Senior Producer
Eloise Snape - Creative Producer
Scarlet McGlynn - Programming Producer
Judy Reardon - Technical and Production Manager
Kylie Richards - Finance Manager
Dax Carnay - Marketing and Engagement
Peta Downes - Programming Coordinator
Personal includes excerpts from Passport Without a Country courtesy of Cameron Davie, Noumenon Films
Production Partners
---
Price
$30 - $45 + booking fee
Times
Wed 6 – Sat 9 Sep

Wed – Fri, 7:30pm
Sat, 3pm & 7:30pm

50 minutes, no interval

All performances of Personal have AUSLAN integrated into the production

Audio Described Performance: Thurs 7th 7:30pm
Duration
50 minutes, no interval
Accessibility
Auslan interpreted events
Assistive listening systems available
75% Visual Content. Minimal dialogue, some background music and/or sounds
Dates in September
| Mon | Tue | Wed | Thu | Fri | Sat | Sun |
| --- | --- | --- | --- | --- | --- | --- |
| | | | | | | |
| | | | | | | |
| | | | | | | |
| | | | | | | |
| | | | | | | |
---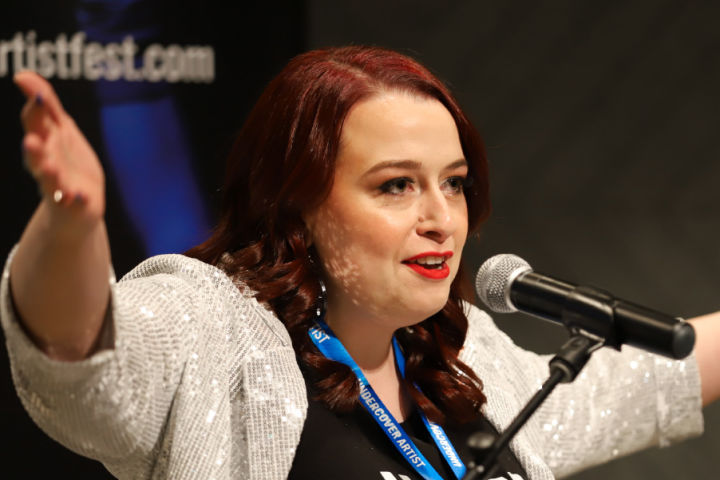 Thu 7 Sep,
post-show panel
Brisbane Festival and Undercover Artist Festival in Conversation: On Our Terms
Disabled artists take the lead on discussions of authentic representation and disability cultural safety in the arts sector.

On Our Terms will highlight the panelist's arts practices, explore collaborative tools, and share insight about artists with disability taking agency in their work.

This conversation will feature Jodee Mundy, Aspy Jones (starring in WunderSounds at Undercover Artist Festival) and facilitated by Madeleine Little, Artistic Director of Undercover Artist Festival.

This conversation will have Auslan interpretation.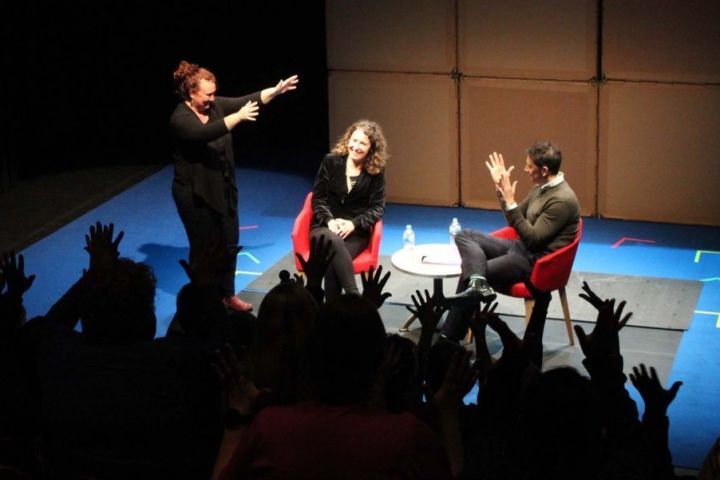 Fri 8 Sep,
post-show panel
In conversation: Jodee Mundy OAM, with Julie Lyons Brisbane-based actress and artist, and Brett Casey, CEO of Deaf Connect.
This post show conversation will explore art and culture within the Deaf Community's ecosystem and within the context of the Australian creative industries.

Why are there so few Deaf artists on our stages and screens and what can be done to support them? How can creative members of the Deaf community make art and culture and making a living?

This conversation will be in Auslan and interpreted into English.
Personal doesn't discriminate. Inviting deaf and hearing audiences alike. This is a notable and important example of where access is not part of the performance, access is the performance.

★★★★★

Arts Hub
Jodee Mundy's Personal is a winning and inclusive tonic, consistently hilarious and informative.

★★★★

Time Out
Personal, aside from a triumphant piece of performance and live theatre, does something special; it bridges divides, it removes, within this context, "us" and "them". Not often does theatre, despite the best of intentions, achieve such heights

Melbourne Critique
Critical Stages Touring
Critical Stages Touring makes high-quality live theatre accessible throughout Australia. They connect artists with presenters, foster sustainable practices, and build audience engagement.

Jodee Mundy
Jodee Mundy OAM, Artistic Director of Jodee Mundy Collaborations, identifies as a disabled artist. She received an Order of Australia Medal for Performing Arts service and has several Green Room and Helpmann Awards.