Fri 8 Sep
Brisbane Festival and the Queensland Government Present
West End Stories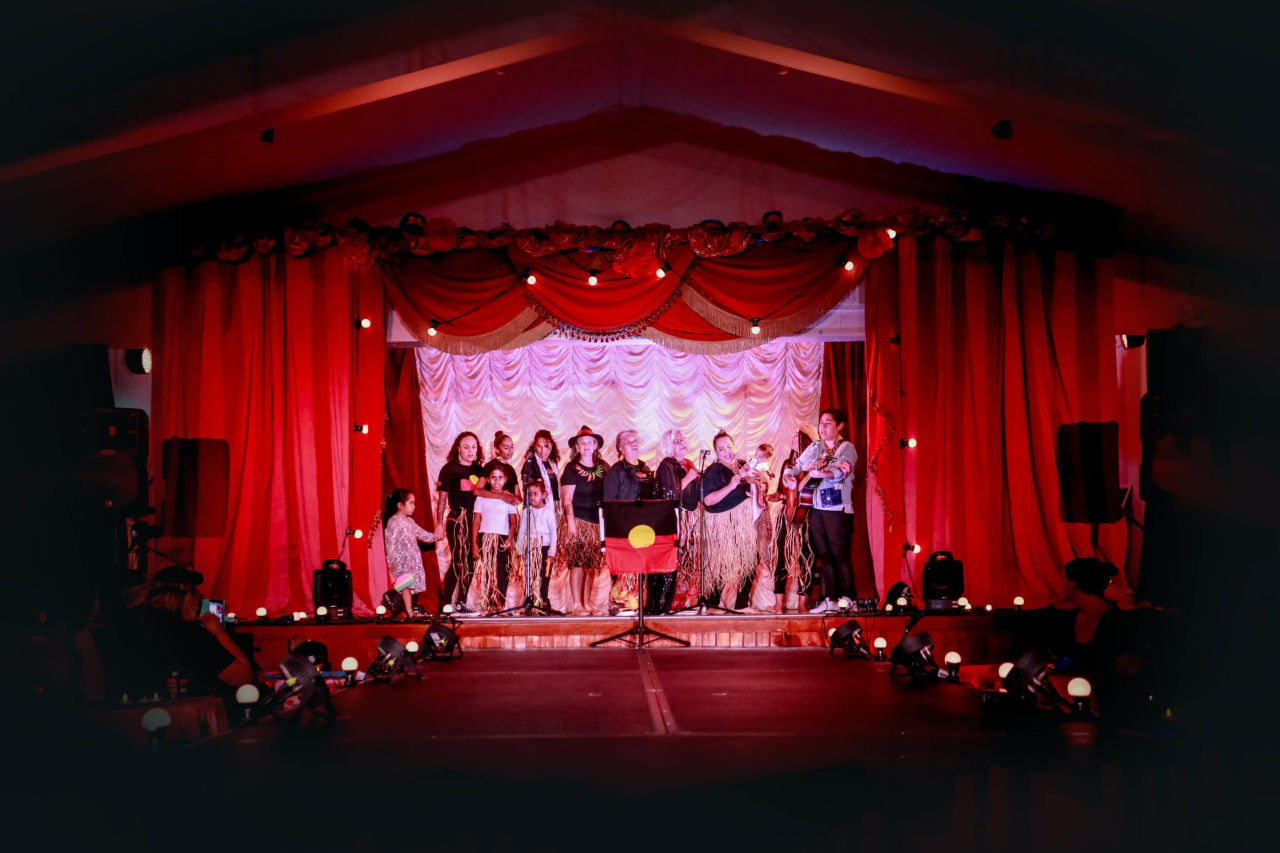 With Jessie Lloyd, Aunty Dawn Daylight, Uncle Adam Hopkins, Uncle Barry Tanner, Auntie Chantay Link, Kylie Deen & West End Community House

Songwriter Jessie Lloyd, Brisbane Blacks Elders Aunty Dawn Daylight, Uncle Adam Hopkins, Uncle Barry Tanner, Auntie Chantay Link and Kylie Deen and the team from West End Community House come together to present Meanjin Recovered.
This world-premiere show weaves storytelling and song writing tools to illustrate an historical timeline of Meanjin Brisbane through the lens of First Nations people. Meanjin Recovered documents the history of the city as we know it today… but perhaps not in a way you have had the opportunity to hear before.
Join Jessie, the Brisbane Blacks Elders, Kylie and West End Community House as they engage in truth telling practice to share the vital history of these lands.
Image by Atmosphere Photography
Thomas Oliver, Portrait Photographer – West End Stories: Meeanjin Recovered
Production Partners
---
Where
The Norman Price Theatre,
TAFE Queensland,
Building C, 66 Ernest St, South Brisbane QLD 4101,
Getting Here
Dates in September
| Mon | Tue | Wed | Thu | Fri | Sat | Sun |
| --- | --- | --- | --- | --- | --- | --- |
| | | | | | | |
| | | | | | | |
| | | | | | | |
| | | | | | | |
| | | | | | | |

Jessie Lloyd
Jessie Lloyd is a Songkeeper. An Australia Aboriginal singer, social historian and cultural practitioner of Indigenous song and founder of her award-winning Mission Songs Project.

Auntie Chantay Link
I am a Gurang Gurang/Kabi Kabi woman born and bred in Brisbane. I am a member of Breaking Silent Codes, a group of Pacific women working with family violence. I am a weaver, a story teller, a playwright and composer.

Auntie Dawn Daylight
An elder and traditional owner of the Jaggara with blood ties to Turrabul through her mothers. Her parents were residents at Purgah mission and was a part of the removed generation. She is also the resident elder of YYWW.

Uncle Adam Hopkins
Uncle Adam is well known elder in Brisbane Aboriginal community representing the Gurang Gurang/Wakka Wakka and South Sea islander communities. A resident elder of Murri courts and a director at Jagera Community Hall at Musgrave Park.

Uncle Barry Tanner
A Bidjera and Gamileroi man who was raised on Wakka Wakka country. He has lived in Brisbane most of his life and is a freeloader.

Kylie Deen
Kylie Deen is a Gubbi Gubbi woman who is the First Nations Community Development worker at West End Community House and local community organiser.
How to get there
The Norman Price Theatre,
TAFE Queensland,
Building C, 66 Ernest St, South Brisbane QLD 4101,
Getting Here