Brisbane Festival and Brisbane Powerhouse present
The Lost Lending Library
19 – 26 Sept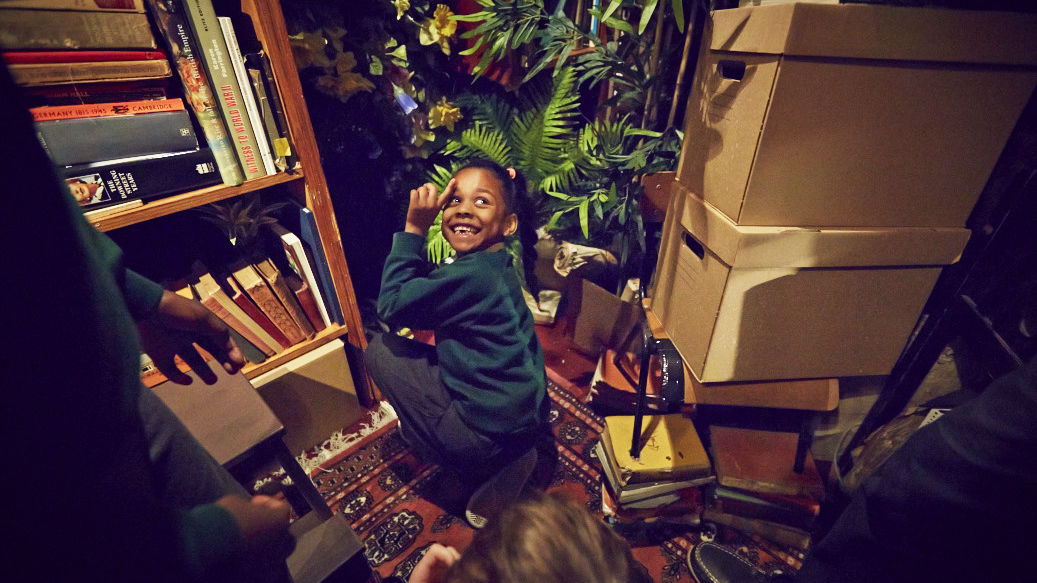 Enter the Library to discover a magical world, a celebration of books and the journeys they take us on.
Punchdrunk (United Kingdom), produced by Imaginary Theatre
At 314 floors high and with 72 spiral side departments, The Lost Lending Library is the largest collection of books in the world. The Library leaps from place to place, seeking out young creative minds wherever it goes…
Inspire a lifetime of reading and writing in this intimate experience for children aged 4 to 12 years old, their families and carers.
Do you have the right imagination to help fill the Library's shelves and power it to the next destination?
Punchdrunk Team


Creators
Peter Higgin, Frances Moulds & Matthew Odell
Director
Peter Higgin
Designers
Livi Vaughan, Kate Rigby & James Boult
Sound and Graphic Designer
Stephen Dobbie
Producer
Alex Rowse
Project Manager
Lauren Edwards
Imaginary Theatre Team


Associate Director and Producer
Thom Browning
Design Realisor
Sarah Winter
Design Assistant
Aimée Pouzet
Associate Producer
Brodie Shelley
Cast
Giema Contini,  Merlynn Tong, Lucas Stibbard, Dan Gough

Image by Paul J Cochrane
Punchdrunk is supported in the UK by Arts Council England

Originally produced for Festival 2018 with the support of Circa
Production Partners
Price
$40 + Booking fee per family group of up to four
Times
10am – 5pm, sessions every hour (except for 1pm)
Accessibility
Auslan interpreted events
Important Info
Suitable for 4 - 12 year olds, their families and carers.  Sessions are for one family at a time. Adults must be accompanied by a child.
19 Sept at 12pm will be a Relaxed performance
23 Sept at 12pm will be AUSLAN Interpreted 
Bookings essential
September 2020
Mon
Tue
Wed
Thu
Fri
Sat
Sun

1

//= implode(' + ', $times); ?>

2

//= implode(' + ', $times); ?>

3

//= implode(' + ', $times); ?>

4

//= implode(' + ', $times); ?>

5

//= implode(' + ', $times); ?>

6

//= implode(' + ', $times); ?>

7

//= implode(' + ', $times); ?>

8

//= implode(' + ', $times); ?>

9

//= implode(' + ', $times); ?>

10

//= implode(' + ', $times); ?>

11

//= implode(' + ', $times); ?>

12

//= implode(' + ', $times); ?>

13

//= implode(' + ', $times); ?>

14

//= implode(' + ', $times); ?>

15

//= implode(' + ', $times); ?>

16

//= implode(' + ', $times); ?>

17

//= implode(' + ', $times); ?>

18

//= implode(' + ', $times); ?>

19

//= implode(' + ', $times); ?>

20

//= implode(' + ', $times); ?>

21

//= implode(' + ', $times); ?>

22

//= implode(' + ', $times); ?>

23

//= implode(' + ', $times); ?>

24

//= implode(' + ', $times); ?>

25

//= implode(' + ', $times); ?>

26

//= implode(' + ', $times); ?>

27

//= implode(' + ', $times); ?>

28

//= implode(' + ', $times); ?>

29

//= implode(' + ', $times); ?>

30

//= implode(' + ', $times); ?>