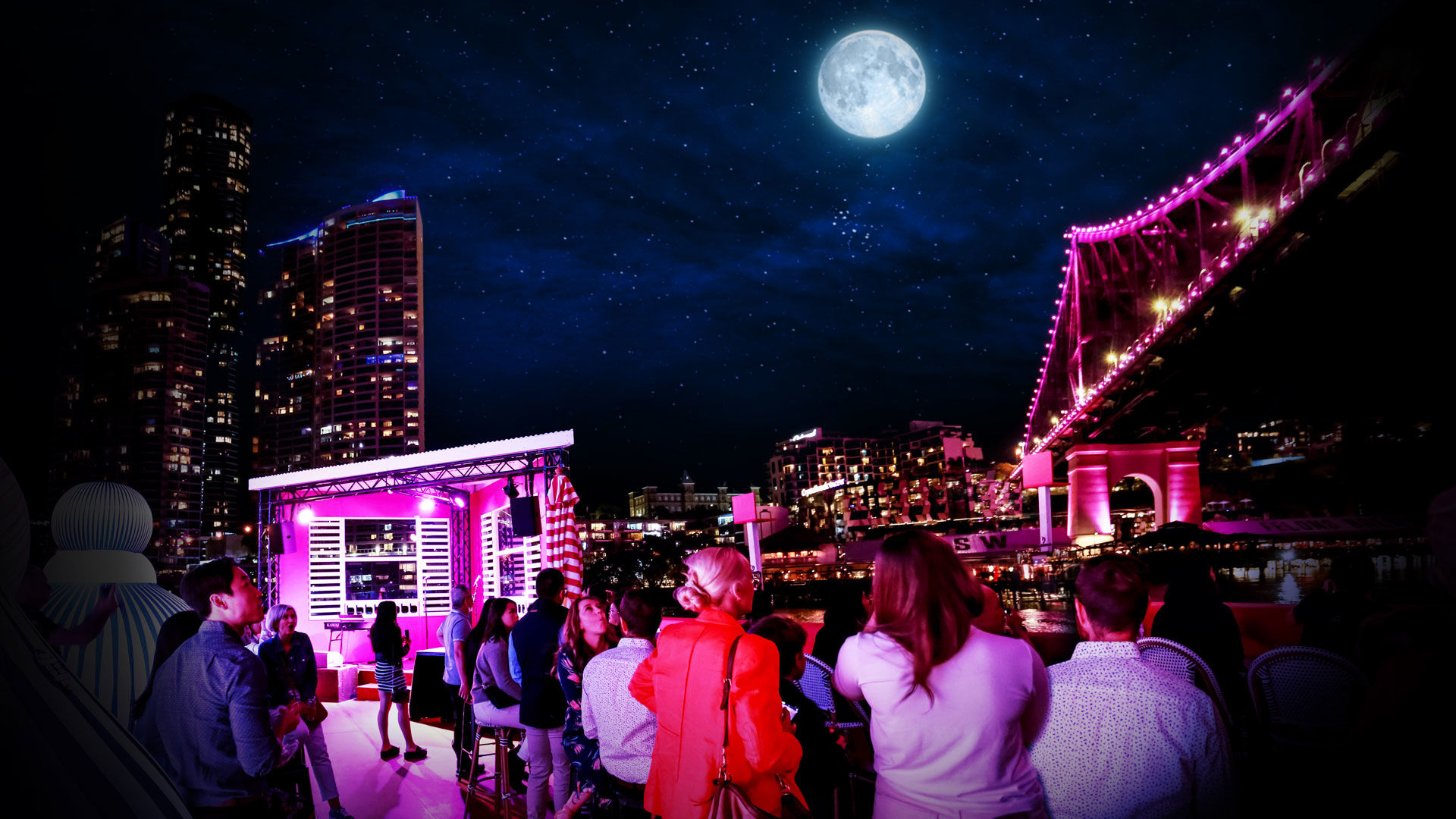 2—24 Sep
Northshore Brisbane
Brisbane's Northshore will transform into an immersive riverfront hub for Brisbane Festival.
The wondrous floating art experience, Brisbane's Art Boat featuring The Spheres by internationally acclaimed artist Lindy Lee, will dock at Northshore Brisbane's Maritime Green with cruises departing Wednesday to Sunday.

As the sun sets, the precinct will be enlivened with live music, a pop-up riverside bar and tasty eats.

Open sessions return on Tuesday evenings, where audiences can experience the stunning installation The Spheres whilst the Art Boat is docked.
#Discover Brisbane's own Art Boat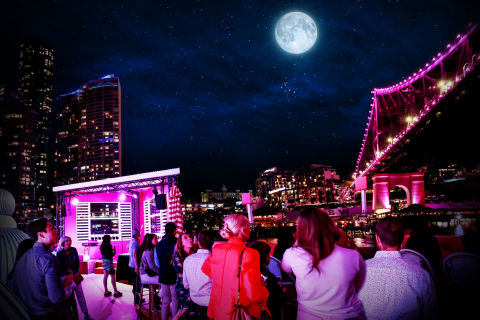 The ultimate celestial experience.
Float away at midnight as the full Moon casts its bright light over Brisbane with soul-pop songstress Akosia and special guest artists.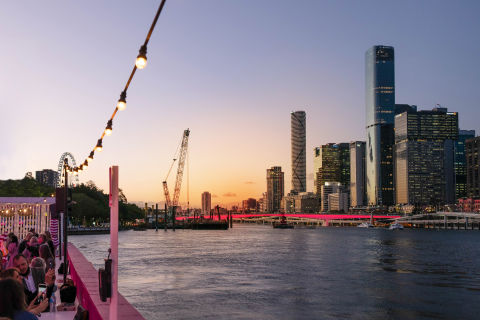 A unique experience to greet the day.
Lie down, taste and touch nature's grandeur, listening deeply and exploring as the dawn breaks over the Brisbane River.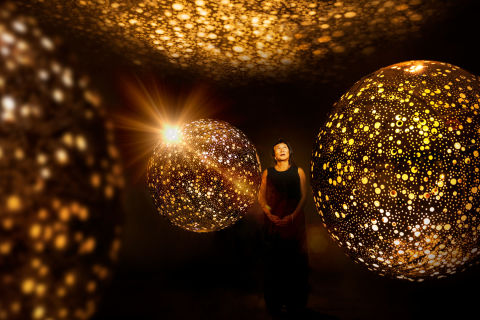 A mindfulness experience led by Steve Pozel.
Through mindful practices explore new ways in which art can be an extraordinary means to communicate what words cannot.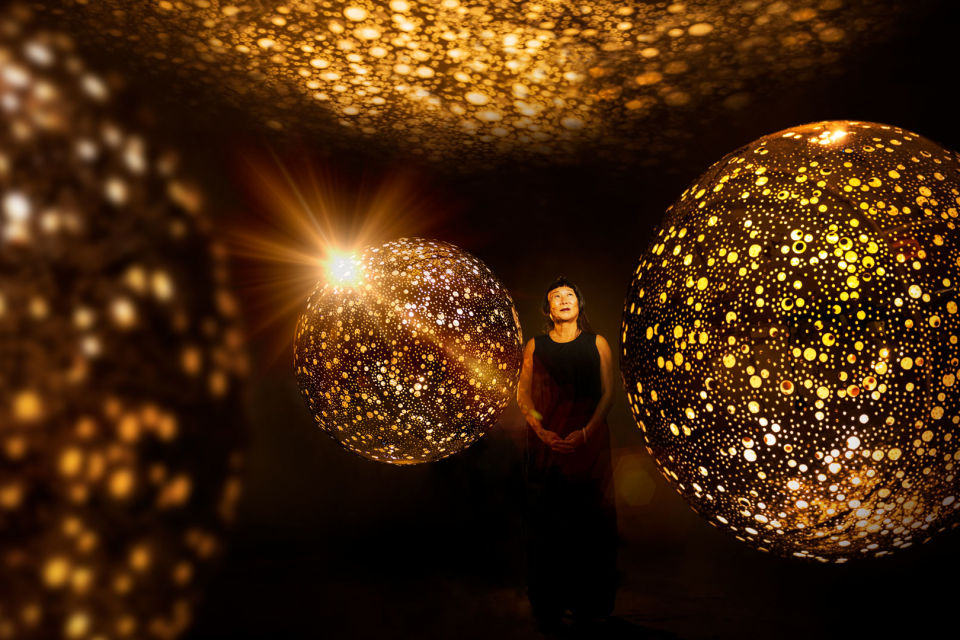 Internationally renowned visual artist, Lindy Lee brings her stunning installation aboard Brisbane's Art Boat for a truly immersive, celestial art, light and sound experience.
#Artist Highlights
Each cruise features a pop-up performance from a special guest artist

Akosia
AKOSIA invites her listeners on an eclectic journey of her melodic harmonies and meaningful storytelling that explores the reality of life and love through her music. Step into the intoxicating world of AKOSIA.

Alice Ivy
Recognised as one of Australia's most versatile and exhilarating artists, ARIA-nominated, Alice Ivy's eclectic signature sound spans sample-influenced soul, hip-hop, dance and electronic pop that she brings to life live as a multi-instrumentalist.

Gail Sorronda
With her signature monochromatic designs, Gail Sorronda brings her unique aesthetic to Brisbane's Art Boat. Having attracted the attention of the likes of Dolce & Gabanna and Karl Lagerfeld, the cult Brisbane designer will entrance audiences.

Laniakea II
Experience a different sense of space and time in this mesmeric and beautiful work conceived by composer Dr Corrina Bonshek and developed in collaboration with gong master Dr Michael Askill that evokes the movement of stars in our expanding universe.

Mo'Ju
A force to be reckoned with, Mo'Ju is one of Australia's most exciting singer/songwriters. Amassing critical, commercial and cultural influence with their album, Native Tongue, they continue to impact the Australian music scene through their work.

MZAZA
Led by French-Sephardic vocalist Pauline Maudy, multi-award winning MZAZA deliver their stunning blend of folk to music lovers the world over. This group of musicians from around the globe mesmerise audiences with powerful and inspired performances.

The Huxleys
The Huxleys are a dynamic duo of cataclysmic proportion who present camp commentary and spectacle across visual art and performance. Sparkle, surrealism and the absurd, The Huxleys bring some escapism and magic to everyday life.

Vanessa Tomlinson
Vanessa Tomlinson's work is noted for exploring how sound shapes our lives, awakening our ears to new sounds, in new spaces, her music making, which include works on the tam-tam is the perfect partner to Lindy Lee's installation.
#Comedy & cabaret by twilight
Don't miss the Twilight Electric Spiegeltent at the Northshore Precinct!
#Getting There
Brisbane's Art Boat Departure Information
Northshore, Brisbane Departures
Maritime Green
147B MacArthur Ave,
Hamilton QLD 4007

All ticket-holders are required to arrive by the time on their ticket. Time for boarding is included.
South Bank Departures
410 Stanley St,
South Brisbane QLD 4101

All ticket-holders are required to arrive by the time on their ticket. Time for boarding is included.

The boat is moored along the river, in front of the pool area near the South Bank Piazza and BOQ Festival Garden.
Journey planner
There are ferry stops and bus stops nearby. Plan your public transport journey using the Translink Journey Planner.