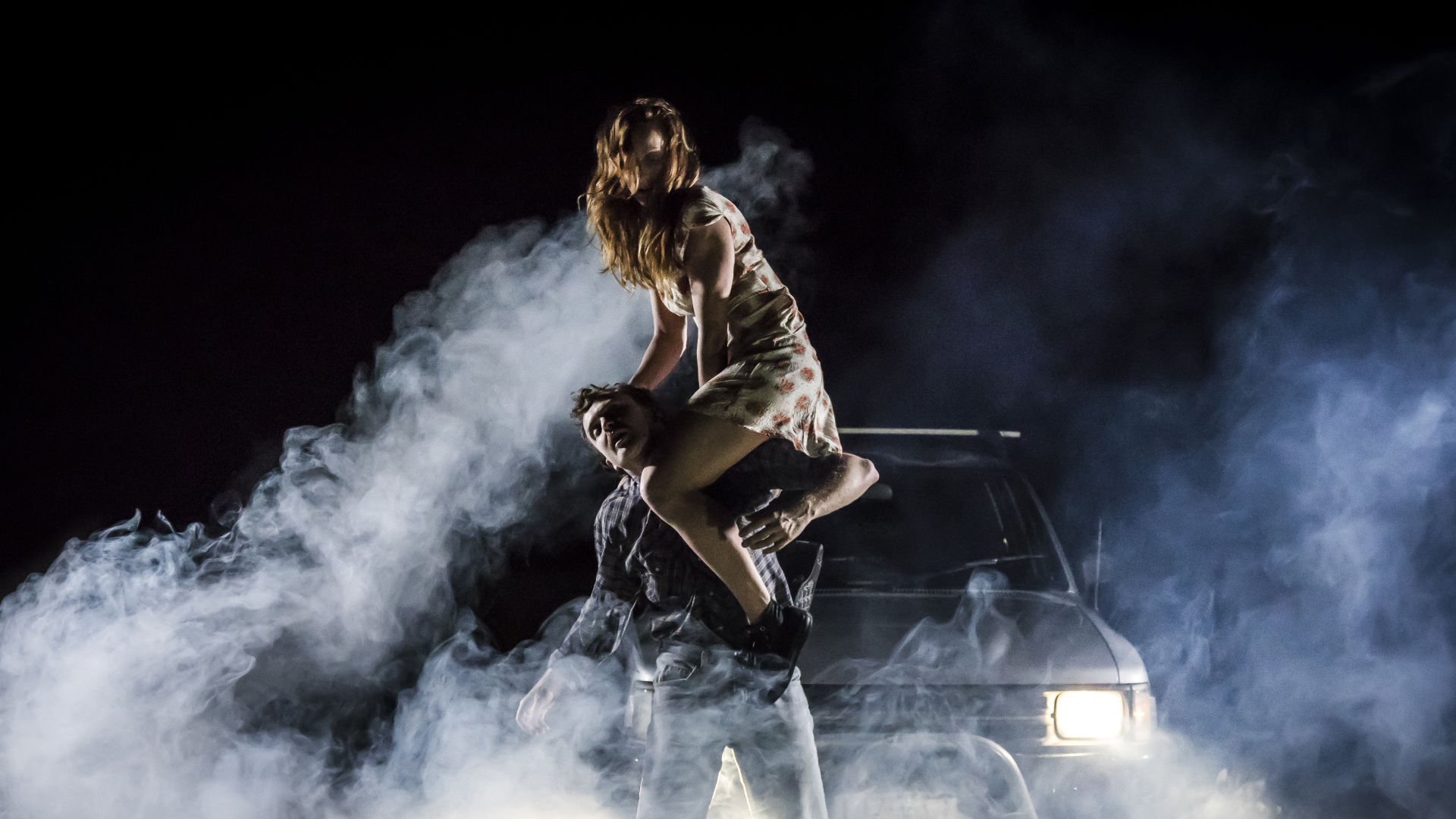 Brisbane Festival and Brisbane Showgrounds present
Throttle
23 – 26 Sept
A B-grade thriller viewed from within the safety of your own car
The Farm
Throttle is lit by your headlights, heard through your car radio and seen through your windscreen. This is a live-action drive-in with an exhilarating, 360-degree dance performance.
A single pane of glass allows us to feel separated from the world outside. It absorbs road rage and shields us when we sing along to the car stereo, but what happens when we're invaded in that bubble of safety? Throttle is like nothing you've ever seen before!
Scream with delight, dive under the dashboard or grip the hand of your fellow passenger and ignite some fun-fuelled passion.
Buckle your seatbelts. You're in for a ride.
Order your food and beverages
We are now accepting orders for food and beverages which you can enjoy from the comfort of your car during the show. This is a strictly no BYO alcohol event and there will be no opportunity to purchase food and drink on the night. Orders will be available for collection via a drive-thru collection point.
Place your order here by 4pm the day prior to your performance.
At The Farm work is made in a collaborative process where everyone brings their expertise without being confined to it. All the names you see below contributed creatively to the making of this work. All animals are equal.
Creators & Directors
Gavin Webber & Grayson Millwood
Creators & Performers
Kate Harman, Essie Horne, Thomas E. S. Kelly & Michael Smith
Motorcycle rider
Dan Reardon
Lighting Design & Production Management
Chloe Ogilvie
Sound Design
Luke Smiles
Sound Associate
Anna Whitaker
Dramaturg
Julian Louis
Horde Wrangler
Nerida Matthaei
Special thanks
Mark Howett, Keir Beck and AP8 stunt training
Imagery
Art-Work Agency
Commissioned and originally produced by Bleach* Festival
Produced by The Farm and Performing Lines
Throttle is produced by The Farm and Performing Lines, was commissioned and originally produced by Bleach* Festival, and supported by the Queensland Government through Arts Queensland and the Australian Government through the Australia Council for the Arts, its arts funding and advisory body. Throttle Research Development produced by Performing Lines, supported by the Australian Government through Australia Council for the Arts. The Farm are proudly supported by The City of Gold Coast.

Production Partners
Price
$100 per car + Booking fee
Times
Wed – Fri 7:15pm, Sat 6.15pm & 8:45pm
Duration
75 mins no interval
Where
Brisbane Showgrounds, Gregory Tce, Bowen Hills
Important Info
Strictly no latecomers.
This production contains haze, coarse language & adult themes. Suitable for ages 15 & over.
Bookings essential, no door sales.
Sept 2020
| Mon | Tue | Wed | Thu | Fri | Sat | Sun |
| --- | --- | --- | --- | --- | --- | --- |
| | | | | | | |
| | | | | | | |
| | | | | | | |
| | | | | | | |
| | | | | | | |
#About the drive-in theatre experience
A standard 2 – 6 seat vehicle (1 – 2 rows of seating) is required for this performance. Patrons must remain in a legal car seat for the duration of the show.

Please ensure that your radio, windscreen wipers, headlights and demister are working before arriving.
Gates to the venue will open 30 minutes before the show. Patrons are advised to arrive at least 15 minutes early.

"It's sinister, it's shocking, it's affecting."

The Music
"A horror movie – but theatre!"

The Music