Wed 21 Sep
Brisbane Festival and Northshore Brisbane present
Dawn Cruise:
Coming to our Senses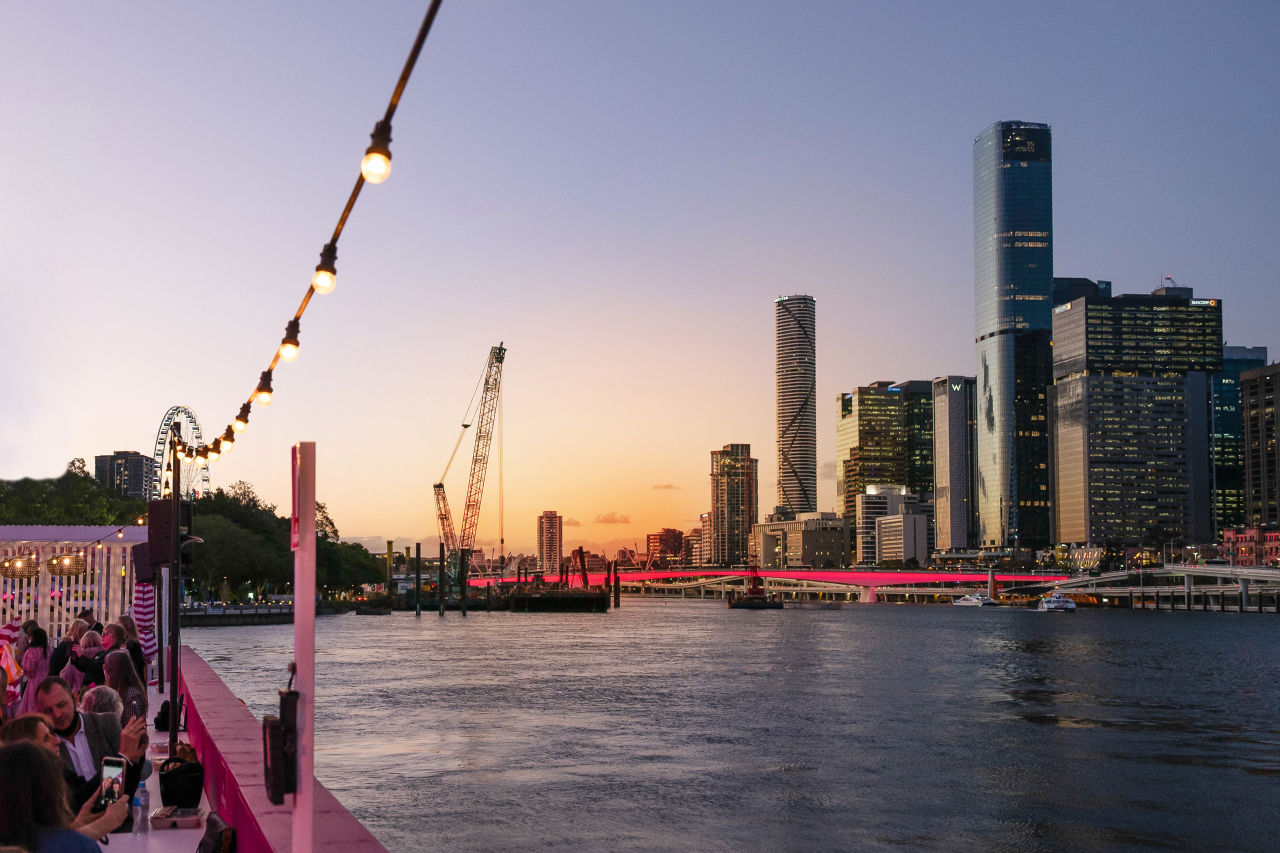 A unique experience to greet the day.
In a world that always pushes the accelerator, this sunrise mindful journey will explore methods and practices that can give us great power to pause and be open to ways of experiencing a new day unfold.
Throughout our journey we will apply present-moment awareness to increase the depth and intimacy of our sensory experience. Each of our senses will be impacted as we experience art, nature and the spatial environment unfolding around us.
Slow down, taste and touch nature's grandeur, listen deeply and explore as the dawn breaks over the Brisbane River.
Featuring Steve Pozel and Timothea Goddard
BRISBANE'S ART BOAT
The Spheres Artist Lindy Lee
Fabrication Urban Art Projects
The Spheres Sound Composition Lawrence English, Room40
First Nations Storytelling Shannon Ruska, Tribal Experiences
First Nations Storytelling Sound Design Guy Webster
Lighting Design Daniel Anderzipf
DAWN CRUISE: COMING TO OUR SENSES

Developed and lead by Steve Pozel and Timothea Goddard.
This project is supported through the Giving Program by Tim Fairfax AC and Gina Fairfax AC.
---
Duration
2 hrs, including boarding time
Important Info
No prior experience in the arts or with mindfulness is required.

You are required to arrive by the time stated on your ticket to allow sufficient time for boarding procedures. Patrons arriving after the time stated on their ticket are not guaranteed entry to the boat.

Whilst we endeavour to run on time, mooring Brisbane's Art Boat is subject to the prevailing conditions. In the event of short delays, we ask for your patience.

This is an outdoor event and you are advised to dress appropriately for the conditions on the day.

Suitable for all ages 14+. Children must be directly supervised by parents at all times on the Art Boat.

The Art Boat is accessible via wheelchair. Please phone QTIX on 136 246 to book.
Dates in September
| Mon | Tue | Wed | Thu | Fri | Sat | Sun |
| --- | --- | --- | --- | --- | --- | --- |
| | | | | | | |
| | | | | | | |
| | | | | | | |
| | | | | | | |
| | | | | | | |
---

Steve Pozel
Steve Pozel works in the intersection between creativity, innovation and mindfulness in the educational and corporate sectors. He has produced mindfulness and art sessions for the Sydney Opera House, MCA Sydney and Vivid Sydney.

Lindy Lee
Lindy Lee's work is inspired by symbolic gestures and processes that call on the element of chance to produce a galaxy of images that embody the intimate connections between human existence and the cosmos.