16 May - 26 Sept
LGBTIQ+ Elders Dance Club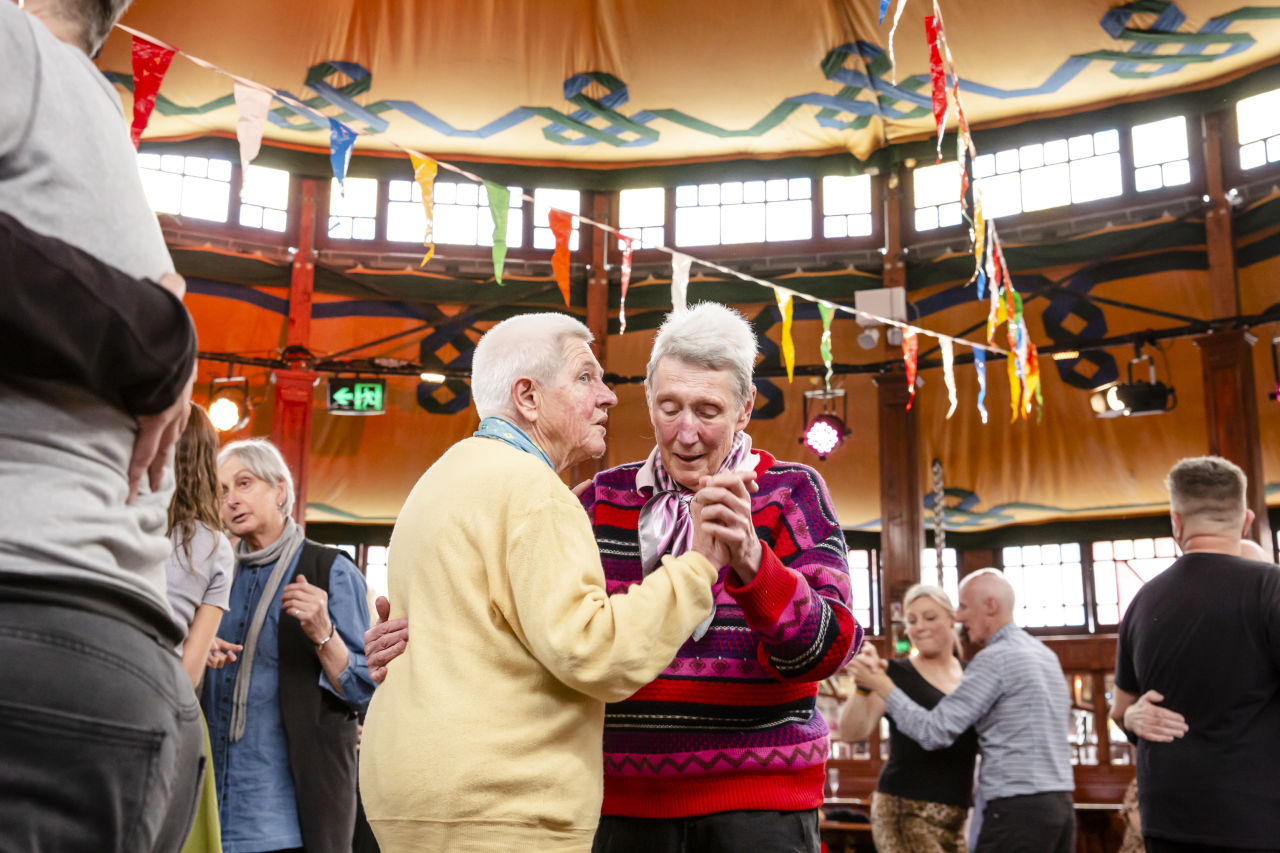 The social event of the month for the whole rainbow and allied community, by All The Queens Men.
Come one, come all!

After the wonderful launch of Coming Back Out Brisbane in September, we are thrilled to announce three LGBTIQ+ Elders Dance Clubs this year.
Lesbian, Gay, Bisexual, Trans and Gender Diverse, Intersex elders and their allies are invited to this fabulous, free social event.
Learn new dances, and meet wonderful new people.
LGBTIQ+ Elders Dance Club is a regular, safe, joyous and inclusive space for the whole community. No dance experience required
The fabulous LGBTIQ+ Elders Dance Club Brisbane is created by All The Queens Men and co-produced with Brisbane Festival in association with Queensland Council for LGBTI Health and Brisbane Pride. Image by Bryony Jackson.
---
Where
The Newmarket Hall
212 Ashgrove Ave
Ashgrove QLD 4006
Getting Here
Important Info
Plenty of on-site parking.
Light refreshments, including vegan and gluten free options, will be served.
RSVPs will help us plan, but everyone is welcome to attend regardless of whether they have registered prior.
Dates in May
| Mon | Tue | Wed | Thu | Fri | Sat | Sun |
| --- | --- | --- | --- | --- | --- | --- |
| | | | | | | |
| | | | | | | |
| | | | | | | |
| | | | | | | |
| | | | | | | |
| | | | | | | |
Dates in June
| Mon | Tue | Wed | Thu | Fri | Sat | Sun |
| --- | --- | --- | --- | --- | --- | --- |
| | | | | | | |
| | | | | | | |
| | | | | | | |
| | | | | | | |
| | | | | | | |
Dates in July
| Mon | Tue | Wed | Thu | Fri | Sat | Sun |
| --- | --- | --- | --- | --- | --- | --- |
| | | | | | | |
| | | | | | | |
| | | | | | | |
| | | | | | | |
| | | | | | | |
Dates in August
| Mon | Tue | Wed | Thu | Fri | Sat | Sun |
| --- | --- | --- | --- | --- | --- | --- |
| | | | | | | |
| | | | | | | |
| | | | | | | |
| | | | | | | |
| | | | | | | |
| | | | | | | |
Dates in September
| Mon | Tue | Wed | Thu | Fri | Sat | Sun |
| --- | --- | --- | --- | --- | --- | --- |
| | | | | | | |
| | | | | | | |
| | | | | | | |
| | | | | | | |
| | | | | | | |
---