2 — 23 Sep
Brisbane Festival and Westfield Chermside Present
Kidchella Westfield Chermside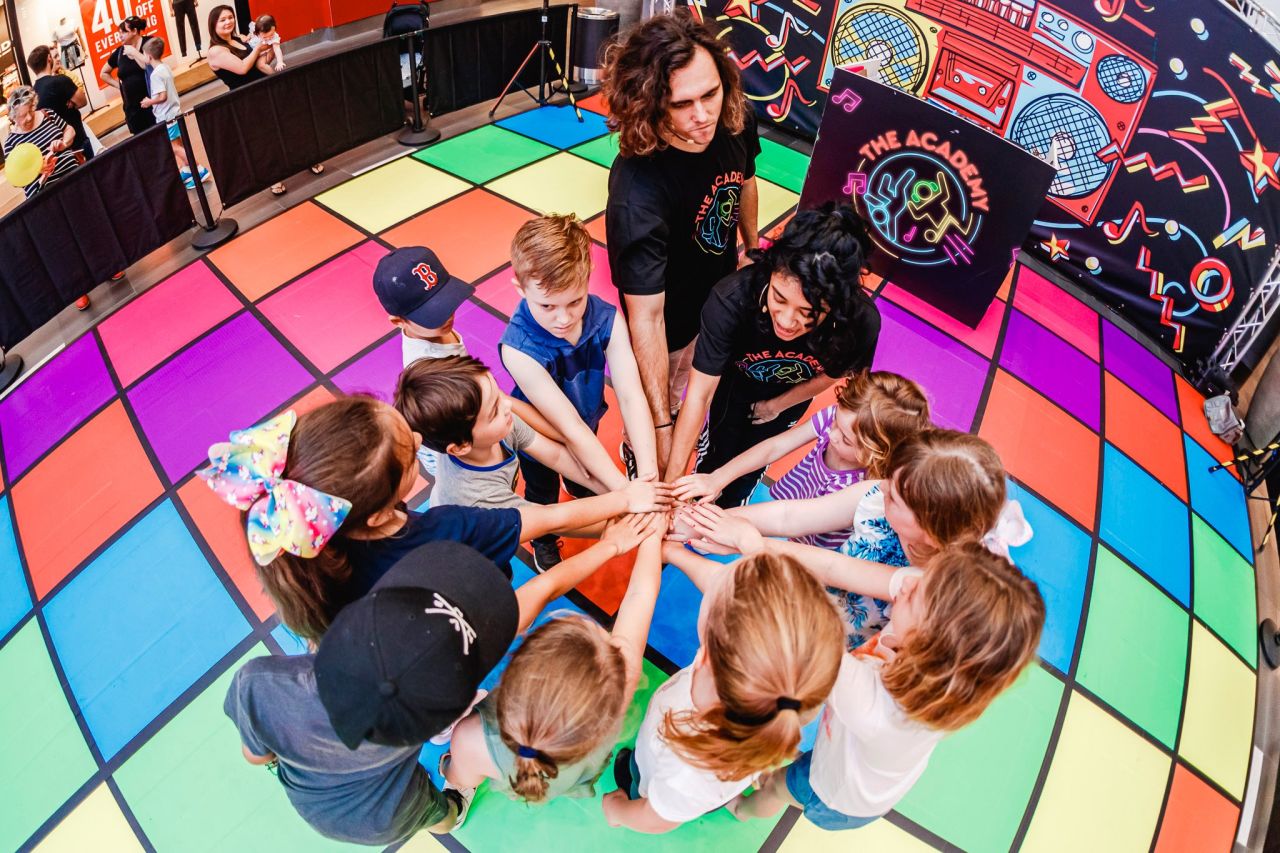 Experience Westfield like you never have before with Brisbane Festival program pop-ups: Late Night Jams and KidChella!
Westfield Chermside will abound with festival fun across September! Thursday nights will see customers serenaded by some of Brisbane's favourite musicians, and then on Saturday mornings, don your dancing shoes, grab the family and join in an 80s dance party with Common People Dance, Learn to play Kazoo or make your own fun Festival Mask with BrisStyle!

School holidays will come alive with an array of workshops delivered during Kidchella: learn some Hip Hop dance moves with the much-loved Elements Collective, scrub up on your circus skills with Flipside Circus and much more. And to top it all off, don't miss the Bris Fest Disco on Thursday 21 September from 5pm.
WEEK 1
Sat 2nd Sept 10am – 12pm Common People Dance – Dance Party & Workshop
Thurs 7th Sept 5pm – 5:45pm Monique Clare – Music Performance
Thurs 7th Sept 6pm – 7pm Old Lore (Pete Thornley) – Music Performance
WEEK 2
Sat 9th Sept 10am – 12pm Kazoo Lessons & Playing (Jodie Little)
Thurs 14th Sept 5pm – 5:45pm Harlen (Jess & Sarah) – Music Performance
Thurs 14th Sept 6pm – 7pm Red Dust Hollow (Sue Ray) – Music Performance
WEEK 3
Mon 18th Sept 10am – 12pm Circus Workshops with Flipside
Tues 19th Sept 10am – 12pm Circus Workshops with Flipside
Wed 20th Sept 10am -12pm Hip Hop Dance Workshops with Elements Collective
Thurs 21st Sept 5pm – 8pm Roving Stilts with Manoeuvre, Roving Dancers with Elements Collective, Facepainting with Glitz Factory
Fri 22nd Sept 10am – 12pm Comedy, Clown & Mask Theatre Workshops with Clint Bolster
Sat 23rd Sept 10am – 12pm Festival Face Mask Making Workshop with BrisStyle
Neridah Waters Common People Dance
---
Times
Sat 2 & 9 Sep 10am
Thu 7 & 14 Sep 5pm
Mon 18 – Sat 23 Sep
Important Info
More accessibility information is available via this link.
We are 'under the dome' in the outside dining area on the top floor.
Dates in September
| Mon | Tue | Wed | Thu | Fri | Sat | Sun |
| --- | --- | --- | --- | --- | --- | --- |
| | | | | | | |
| | | | | | | |
| | | | | | | |
| | | | | | | |
| | | | | | | |

RED DUST HOLLOW
RED DUST HOLLOW combines folk, country, and unique styles to explore deep emotional and existential questions. The music invites listeners to ponder life's big questions with sultry vocals and compelling storytelling.

Common People Dance Project
Welcoming all ages and abilities, they've had participants from various backgrounds, from ex-professional dancers to absolute beginners. They incorporate various dance styles, teaching fun choreography to popular songs.

Monique Clare
Indie-folk artist Monique Clare combines cello and vocals for a mesmerizing experience. Her 2022 debut 'Sight' won a QLD Music Award and earned four stars from Rhythms Magazine.

Jess Harlen
Meanjin based Maori artist Harlen, is known for her soulful music. She's currently working on her 3rd solo LP with Camilla Charlesworth, focusing on vocals and piano. She will perform with guitarist Sarah Koppen.

Flipside Circus
Queensland's largest youth arts company with a national reputation for excellence in training and performance. Flipside values children and young people as cultural creators and works with a regular team of extraordinary circus trainers and artists.
MANOEUVRE
MANOEUVRE is QLD's premier stilt performance company, active for 32 years in 15 countries. Specialists in the non-verbal, these performers enchant audiences at events like Woodford Folk Festival and EKKA to global stages in Singapore and Mongolia.

Clint Bolster
Clint Bolster is a Brisbane-based clown, physical actor, and stilt performer with 20 years of experience. He's involved in projects like Homunculus Theatre and Manoeuvre. Clint is also a part of Cirque Du Soleil's clown database.

Kate Jefferay
Kate is a textile artist who runs My Aunty Anna. With extensive experience in workshops and installations, she has contributed to events like QPAC's Out of the Box Festival and the Brisbane Science Festival.