Sat 23 Sep
Brisbane Festival and Queensland Country Bank Presents
NOISE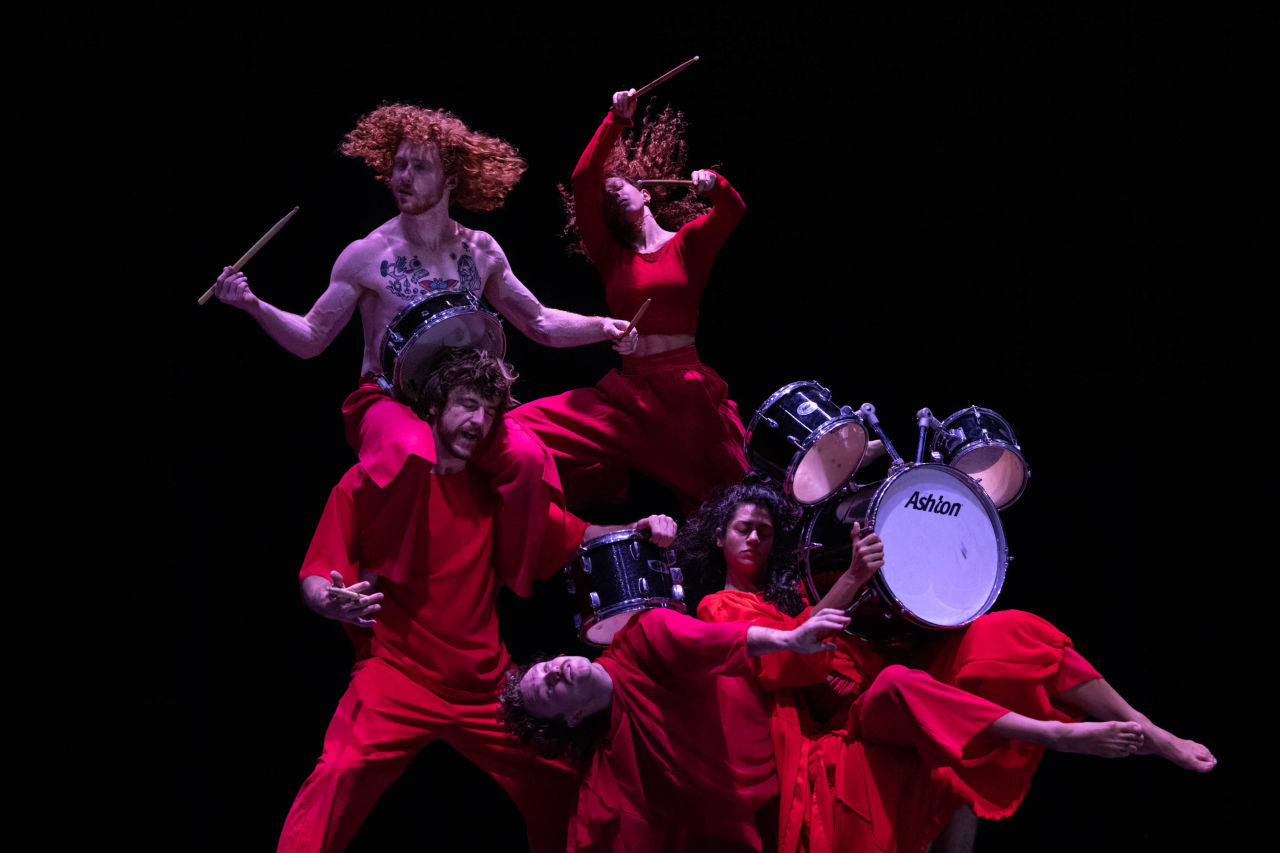 Uniting rhythm, dance & community
Keeping those riotous rhythms going, the acclaimed Dancenorth Ensemble joins forces with a a mass group of community drummers who will thump out a scintillating live score in this dynamic community driven performance that closes out Brisbane Festival 2023 at the BrisFest Closing Concert: All Together Now.
Noise is a gathering, a united force of percussive energy and dance… a powerful reminder of our primal connection to rhythm.

We invite drummers and noisemakers of all abilities, ages, and experience to join us for series of rehearsals, leading to a performance at Brisbane Festival's Closing Concert on Saturday 23 September 2023 at Victoria Park.
Participation in the production is fun, inclusive, and voluntary. Registrations to be part of Dancenorth's NOISE presented by Brisbane Festival, have now closed.
NOISE was commissioned and presented by the North Australian Festival of Arts in 2019. Dancenorth Australia is assisted by both the Australian Government through the Australia Council for the Arts and its arts funding and advisory body, and the Queensland Government through Arts Queensland. Dancenorth Australia is supported by Townsville City Council through their Strategic Partnerships Program.
Amber Haines and Kyle Page - Concept, Direction and Choreography
Costa Hagiaglou - Composition
Alex Salvador - Composition Support
Donna-Maree Maxwell - Composition Support
Debie Curd - Composition Support
Felix Sampson - Additional Arrangements and Guitar Orchestrations
Jamie Schmidt - Original Lighting Designer
Andrew Treloar - Costume Design
Sabine Crompton-Ward - Performer
Tiana Lung - Performer
Damian Meredith - Performer
Darci O'Rourke - Performer
Felix Sampson - Performer
Michael Smith - Performer
Production Partners
---
Where
Victoria Park/Barrambin, Herston
Dates in September
| Mon | Tue | Wed | Thu | Fri | Sat | Sun |
| --- | --- | --- | --- | --- | --- | --- |
| | | | | | | |
| | | | | | | |
| | | | | | | |
| | | | | | | |
| | | | | | | |
---
The NAFA performance offered a glorious starting point for a project which we will doubtless see duplicated in many places and formats.

ARTSHUB
NOISE was a performance of dramatic contemporary dance that got audiences out of their seat, and reminded us of the magnetic power of movement, joy and community.

HECKLER

Dancenorth Australia
Recognised as one of Australia's leading performing arts companies, Dancenorth Australia balances a dynamic regional presence with a commitment to creating compelling contemporary dance that tours the world.